Record Heat Wednesday Before Autumn Cool Down Arrives
We are transitioning today to a very warm and humid air mass. This will set us up for record high temperatures on Wednesday as highs from NYC south and west will reach near or just over the 90 degree mark. For the rest of today we are seeing clouds around but there are some breaks of sunshine developing for this afternoon. Highs will reach 80 to 85 from NYC south and west while we will be in the mid to upper 70s north and east of Northern NJ to NYC into the Hudson Valley and Connecticut
SATELLITE

REGIONAL RADAR

There are some showers on the regional radar moving southeast from Western New England. The area is weakening but we have seen some of those showers reach Central and Eastern Connecticut and Eastern Long Island earlier today. This should be the last of it this afternoon. Elsewhere the radars are completely quiet as you head south and west into New jersey down into Virginia and there are no issues forecast today.
LOCAL RADAR NEW YORK CITY
LOCAL RADAR PHILADELPHIA

Temperatures will hold in the 60s to near 70 tonight with nothing more than some patchy clouds. Then Wednesday we look for record highs near 90 from NYC and Route 78 in New Jersey south and west. The next cold front will be setting up north of Route 84 in Pennsylvania as well as through the Hudson Valley and Connecticut. In these areas temperatures will be in the 70s to near 80.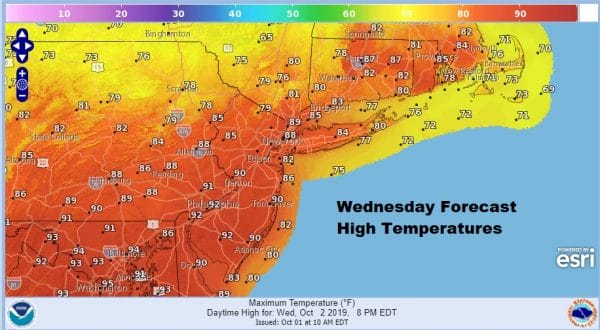 The first of two cold fronts will be sinking southward Wednesday afternoon and evening with the chance for showers or a thunderstorm though the Storm Prediction Center does not have us at risk for severe weather. This first front will settle and stall across Delaware west into Maryland on Thursday. Some areas will cool down considerable Thursday. Areas north and east of NYC won't get out of the 50s while it will still be in the 70s in Southern New Jersey west and south. There will be some showers on Thursday into Thursday night as cold front number 2 moves through.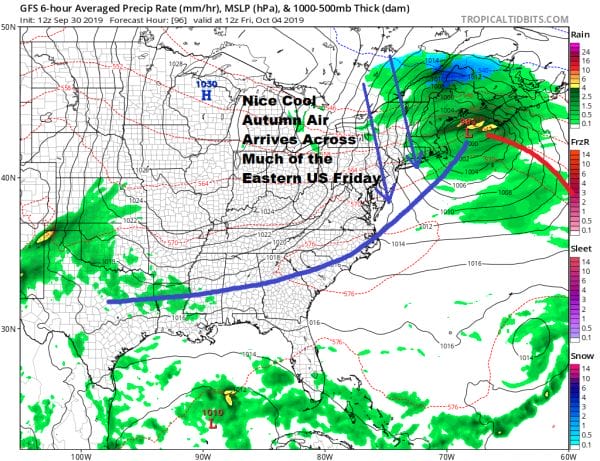 Friday and into this weekend we will have autumn weather. Sunshine breezy and cool conditions arrive Friday with highs just in the 60s. Friday night into Saturday morning will be quite chilly with most lows in the 30s and 40s and I wouldn't be surprised to see some frost advisories inland.
The weekend looks dry and very much autumn like weather wise with sunshine Saturday and highs just in the upper 50s and lower 60s. Sunday we will see sunshine and arriving clouds with highs in the 60s. Showers could come close Sunday evening and then Monday we could see widespread showers with a cold front. Highs will be in the upper 60s and lower 70s. Long range weather fronts will continue to move in every couple of days which means shots of cool air coming on a regular basis.
MANY THANKS TO

TROPICAL TIDBITS

FOR THE USE OF MAPS
Please note that with regards to any tropical storms or hurricanes, should a storm be threatening, please consult your local National Weather Service office or your local government officials about what action you should be taking to protect life and property.