Raw Spring Weather Today Some Sun Returns Tuesday But More Doom & Gloom Late Week

Weather in 5/Joe & Joe Weather Show Latest Podcast
Raw Spring Weather Today Some Sun Returns Tuesday But More Doom & Gloom Late Week
This is going to be one of those spring days where it will be gloomy and gray all day long and we can see there are clouds all over the place on the satellite though you do see the occasional break in the overcast. We can also see the signature of an upper low to the west in Eastern Ohio/Western Pennsylvania. That upper low is moving southeast today and to the north of the track we will see clouds and on and off showers today and tonight.
SATELLITE

Temperatures overnight and this morning have settled in the 40s and this is going to be the struggle today in getting temperatures to move very much. Winds are from the east so certainly there is no help coming from that direction. You have the clouds and the occasional rain to deal with. Temperatures as a result go nowhere.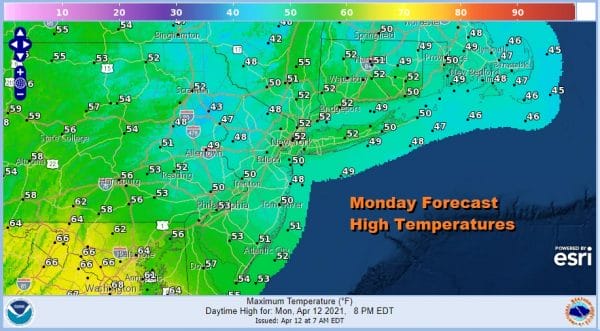 Highs today will be mostly in the 50s. South of the frontal boundary in Maryland and NE Virginia you see a few 60s but they are closer to the frontal boundary. Showers should exit by Tuesday before daybreak and I think Tuesday will be the one day this week with no issues other than some early leftover clouds. We should see some sunshine but highs will be kept in check by a high to the north and a northeast wind. Highs will reach the lower 60s except 50s along south and east facing shore lines.
We talked yesterday regarding the upper low moving offshore Tuesday morning only to be followed by a stronger upper air low in the Great Lakes. The blocking pattern takes this to the southeast and that brings clouds back on Wednesday along with some showers later in the day into Wednesday night. Then a more continuous rain develops for Thursday into Friday as low pressure forms offshore and pivots back northwestward under the upper low.
Note that Thursday night into Friday morning in parts of Upstate NY and Western New England and perhaps even into Northeast Pennsylvania we could see some wet snow in elevations above 1500 feet thanks to the cold air aloft. A soaking rain hopefully will produce an inch or two over the two day period to alleviate the dry conditions. Gloom and doom conditions continue into early Saturday but the low should finally start to move away to the east. Some leftover clouds early Saturday will give way to some sunshine and Sunday should be no worse than partly sunny. If the sun does indeed return that should put highs back into the 60s just about everywhere.
MANY THANKS TO TROPICAL TIDBITS FOR THE USE OF MAPS
Please note that with regards to any severe weather,  tropical storms, or hurricanes, should a storm be threatening, please consult your local National Weather Service office or your local government officials about what action you should be taking to protect life and property.