Raw Rainy Saturday into Sunday Elevation Snows Interior Northeast
The snow drought in the I-95 urban corridor continues through this week with the next storm system coming and no cold air to speak of. Even in areas in Upstate NY and Interior New England there isn't much cold air to work with so in those areas (Catskils, Northern Pennsylvania northeast to interior Central and Northern New England) snows will be elevation driven.
Yesterday's early call remains the same for today. Models to me looked less bullish where it might be snow but I decided to leave things alone for now rather than start bouncing numbers down and up. We have other media outlets and social media "experts" that can do that every 6 hours. In the meantime we saw moderating temperatures today as we made our way to the mid and upper 30s with a few spots even touching 40! There isn't much going on satellite wise and radars are nice and quiet.
SATELLITE

REGIONAL RADAR

Tonight will not be as cold with high pressure over head and sliding slightly to our south. Mainly clear skies are forecast though there might be a few passing clouds coming through. Temperatures won't be as cold tonight as in past nights with most lows in the upper teens and lower 20s away from warmer urban centers and middle 20s or higher in those urban areas.
Thursday will be "bounce" day with some sunshine and a bit of a west wind which should take highs up into the low and mid 40s. We should see a repeat of that Friday and perhaps a shade higher as we head into the mid and upper 40s. Slightly colder air builds down from Northern New England Friday night as we set up the storm system for Saturday into Sunday.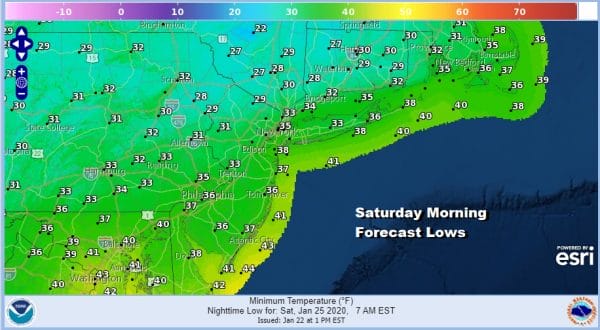 Our low moving into the Middle Mississippi Valley and then to the lower lakes will start to transfer its energy to a new low in the Carolina mountains and that low heads northeastward. Overall my feeling is the models were a shade warmer today and not quite as dynamic as i mentioned earlier with regard to the snow forecast from yesterday for the weekend.
Timing wise rain develops during the morning hours before daybreak from southwest to northeast and it could start as some snow or sleet on the northern edge of the precipitation shield. For much of Eastern Pennsylvania to Southern New England it appears to be me mostly a rain affair but north of Route 84 in NY State, Pennsylvania, Northwest NJ and Northern Connecticut I would pay closer attention if you are above say 1500 feet elevation. Rain looks to be in the 3/4 to 1.25 inch range in some places. The back edge of the rain will be moving out of Southeastern Pennsylvania later Saturday afternoon reaching NYC by evening and then lifting northward after that. Temperatures will be in the raw upper 30s and lower 40s though it may colder as you work your way inland and into higher terrain. Sunday the upper air low will be moving through and I will cover for the chance of some snow showers especially northwest of the coast. Otherwise weather conditions will slowly improve. More storm systems are on the table for next week in this active pattern but there is very cold air around for these systems to work with.
MANY THANKS TO TROPICAL TIDBITS FOR THE USE OF MAPS
Please note that with regards to any severe weather,  tropical storms, or hurricanes, should a storm be threatening, please consult your local National Weather Service office or your local government officials about what action you should be taking to protect life and property.