RAW RAINY INTO TONIGHT
SEVERE WEATHER THREAT TUESDAY
DRY WEDNESDAY THURSDAY RAW RAIN FRIDAY
Low pressure to our south and an onshore wind flow are combining for raw and rainy conditions that will last into the first part of tonight. Temperatures have been struggling just to get back into the 50s and many inland areas are in the 40s going into this evening. Rain has not been especially heavy this afternoon and we don't see any big bursts of rain out of all this.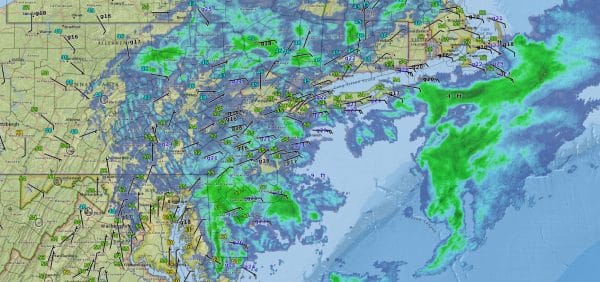 The visible satellite loop shows tons of clouds covering the northeast and this will be with us into Tuesday morning. Once the onshore flow disappears and winds turn to the southwest we will set up for the chance for afternoon showers and thunderstorms on Tuesday.
EASTERN SATELLITE

REGIONAL RADAR

Regional and local radars show the patchy light nature of the rain as it continues to move toward the northeast. The rain is making steady progress so look for it to all begin to taper off and end before midnight. Clouds and some patchy fog will be with us for the remainder of the night.
LOCAL RADAR NEW YORK CITY
LOCAL RADAR PHILADELPHIA

Tuesday we should be under a southwest flow which will warm things up into the 60s. How warm it gets remains to be seen since it is November and not August. The dynamics are there for some showers and thunderstorms in the afternoon though weather models are somewhat underwhelming about it at this stage.
Wednesday and Thursday look nice with some sunshine both days and highs in the 50s. Then we are setting up for another round of raw rainy conditions Friday into early Saturday as low pressure moves up the East Coast and another big high parks itself in Eastern Canada. Colder air works into the equation for upstate NY & Northern New England with some snow in the mix in those areas.
If you are looking for real cold weather and a hard freeze it looks like it is coming for next Tuesday and Wednesday of next week. The map above shows the forecast 7am temperatures next Wednesday morning and they are cold with 20s all the way down into the Southeast US. Weather models remain consistent with the idea of a cold shot for early next week though how we get there still remains a question.
SUBSCRIBE TO PATREON FOR A WEATHER EXPERIENCE FREE OF ADS, EXCLUSIVE VIDEOS FOR MEMBERS ONLY AND MUCH MORE…STARTS AT $2 A MONTH..MESSAGE ME AT ANY TIME

MANY THANKS TO

TROPICAL TIDBITS

FOR THE USE OF MAPS
Please note that with regards to any tropical storms or hurricanes, should a storm be threatening, please consult your local National Weather Service office or your local government officials about what action you should be taking to protect life and property.
LATEST JOESTRADAMUS ON THE LONG RANGE