Raw Rainy Columbus Day Weather Improves Midweek Showers Late Week
WEATHER IN 5 MONDAY OCTOBER 12, 2020
Today is going to be one of those indoors "is it soup yet" kind of days. A raw rainy day is underway with a northeast wind off a cooling ocean. Low pressure that represents the remnants of Hurricane Delta is in North Carolina sliding northeastward. It is really more about the high to the north and the moist flow coming in  from the east rather than any kind of well developed low. Either way the outcome is the same.
The rain is also going to be enhanced by a cold front coming in from the Plains overnight into Tuesday morning so between the two systems there should be a solid area of 1 to 2 inch rainfalls in addition to what fell overnight. Notice amounts tail off as you head west where there might be a break in the rain later today while the rain in New England is robust enough to dent the drought there a bit more.
SATELLITE

REGIONAL RADAR

Our regional and local radars are loaded up this morning with rain from Northeast Virginia to Southern New England and back to Central Pennsylvania. There are some patches of heavy rain in the mix. Movement is slowly northeastward
LOCAL RADAR NEW YORK CITY
LOCAL RADAR PHILADELPHIA

As for temperatures today, they won't be going anywhere. Most areas will have a tough time getting out of the 50s. Perhaps areas south in Southern New Jersey and points southward could get into the 60s if the rain tapers off later on.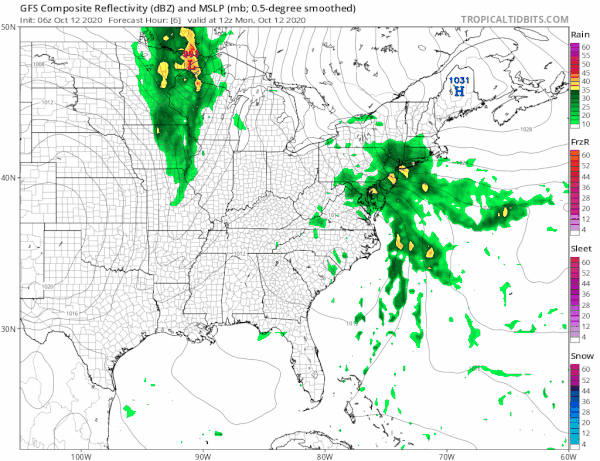 I've run the loop of the GFS model for the entire week and we do have more changes ahead. First off there could be some more rain overnight but it should move out from west to east Tuesday morning as a front passes through. Then weather conditions will improve with clouds giving way to some sunshine Tuesday. Highs will be in the 60s to near 70 degrees. Wednesday and Thursday look to be dry with some sunshine both days. Highs Wednesday will gain be in the upper 60s and lower 70s. Thursday's highs could reach 70 to 75. Then the next cold front arrives Friday with the likelihood for some showers.
The overall weather pattern is going to be shifting into a colder than normal scheme beginning next weekend and lasting through a large portion of next week.  A strong ridge builds in the west setting up 2 deep troughs, one at 160 degrees west or around the longitude of Hawaii and another in the Eastern US. The amplitude of these troughs are high so colder Canadian air will be transported southward into the US on a regular basis. Along the way cold fronts will bring some showers. The first snows will likely appear in lake effect areas around the Great Lakes in the coming weeks; a sign that we are getting deeper into Autumn.
MANY THANKS TO TROPICAL TIDBITS FOR THE USE OF MAPS
Please note that with regards to any severe weather,  tropical storms, or hurricanes, should a storm be threatening, please consult your local National Weather Service office or your local government officials about what action you should be taking to protect life and property.