Flood Watch Posted Raw Rain Later Friday & Friday Night
Conditions Improve Saturday But It Turns Colder, Sunday Sunny Cold
Next Storm System Arrives Tuesday
At least we have enjoyed a very nice day as we see high clouds streaming away to the east and a heavier cloud cover well to our west. We should start the night clear but clouds will be moving in late tonight as the first of 2 storm systems heads our way for Friday and Friday night. Temperatures over night will be in the chilly 30s with lower 40s in the warmer urban settings.
At least from the standpoint of precipitation there are no issues on the radars to worry about overnight and even into the first part of Friday.
EASTERN SATELLITE

REGIONAL RADAR

Low pressure will be coming out of the midwest where the first snows are going to be seen in St Louis, Chicago, and Detroit. The low will organize in the Central Appalachians and head northward. A trailing cold front and a possible secondary low will form and that will put us in a round of rain. The rain arrives Friday afternoon and some of the rain will be heavy tomorrow evening.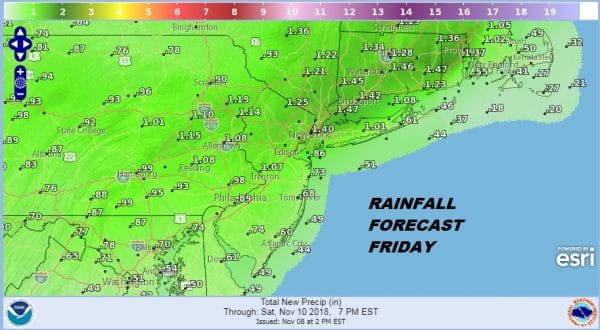 Rainfall amounts will be in the 3/4 inch to 1.25 inch rain. Rain will end later Friday night and weather conditions improve over the weekend. Temperatures on Friday will struggle into the 50s but the wind off the ocean will hold temperatures down. Colder air behind this system comes in for the weekend.
Saturday will be a breezy cold day as temperatures settle into the 40s and by Sunday morning we will be down below freezing just about everywhere including the warmer urban areas which have been the last holdouts from seeing 32 this fall. Sunday will be nice and sunny with highs in the low to mid 40s.
The next storm system approaches early next week but Monday should be fine with sunshine giving way to arriving afternoon highs clouds with highs in the 40s. The system arrives later Monday. We will address this system in a separate post this evening.
SUBSCRIBE TO PATREON FOR A WEATHER EXPERIENCE FREE OF ADS, EXCLUSIVE VIDEOS FOR MEMBERS ONLY AND MUCH MORE…STARTS AT $2 A MONTH..MESSAGE ME AT ANY TIME

MANY THANKS TO

TROPICAL TIDBITS

FOR THE USE OF MAPS
Please note that with regards to any tropical storms or hurricanes, should a storm be threatening, please consult your local National Weather Service office or your local government officials about what action you should be taking to protect life and property.
LATEST JOESTRADAMUS ON THE LONG RANGE