WARM FRONT MAKES FOR A GLOOMY TUESDAY
SUMMERY WEDNESDAY IN THE 80, SEVERE THUNDERSTORMS LATE
DRYING OUT, DECENT WEATHER STRETCH BEGINS THURSDAY
It is a gloomy Tuesday as we watch and wait for a warm front to push northward up the coast. Rain south of Route 195 in New Jersey has tapered off but it continues across Northern New Jersey to Southern New England and everyone in between. The warm front is already through South Jersey where temperatures are already in the upper 60s and lower 70s, while temperatures in the Northern New Jersey and the Hudson Valley are in the 50s to near 60. This warm front will make it all the way up so look for temperatures to slowly rise as the day wears on. Rains will become more showery in nature this afternoon as the back edge of the rain shifts northward.
EASTERN SATELLITE

REGIONAL RADAR

Radar shows the solid coverage of rain on the radar this morning as it moves to the northeast. There are some bands of moderate to occasionally heavy rain embedded in the rain shield but we aren't seeing anything torrential.
LOCAL RADAR NEW YORK CITY
LOCAL RADAR PHILADELPHIA

Tonight as the warm front moves through temperatures will hold in the 60s to near 70 and the humidity will be high. This sets us up for a warm and tropical Wednesday with clouds and some sunshine. Highs will reach into the 80s. All of this sets the table for severe weather late in the day and Wednesday evening.
There is some support for severe thunderstorms with dew points Wednesday rising into the 70s, an unstable atmosphere and a upper air trough swinging eastward. It isn't the most ideal severe weather set up we have seen but the risk is there especially across Eastern Pennsylvania and Western New Jersey. These storms look to come in more in the evening hours rather than in the late afternoon so they may start to weaken as they near the coastline.
The question about whether the front stalls or not Thursday remains. The southern end of the front is likely to stall out though this time the front is stalling out further south and east then the last several fronts. The next high will be more to our west rather than to our north so there will be less of an onshore flow risk this time around. Thursday we are looking at clouds and some sun with highs in the 70s. Friday we will have clouds and the chance for a passing shower with that front being a bit annoying but it shouldn't be a big deal. All this leads to a nice weekend.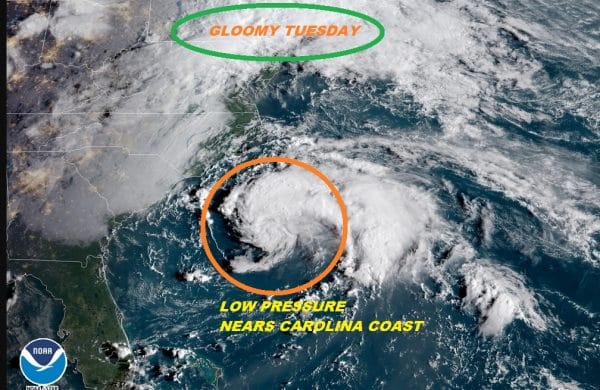 Low pressure continues off the Southeast Coast of the US and we continue to see thunderstorms increase around a broad center. There is still time for this to become a tropical depression however the window of opportunity to develop is shrinking rather quickly. Upper air winds will become unfavorable later tonight and Wednesday along the East Coast as the next cold front approaches. There could be some rain from this in Eastern North Carolina, mainly on the Outer Banks. The system is forecast to turn northward and northeastward and pass offshore with no impact here.
SUBSCRIBE TO PATREON FOR A WEATHER EXPERIENCE FREE OF ADS, EXCLUSIVE VIDEOS FOR MEMBERS ONLY AND MUCH MORE…STARTS AT $2 A MONTH..MESSAGE ME AT ANY TIME

MANY THANKS TO

TROPICAL TIDBITS

FOR THE USE OF MAPS
Please note that with regards to any tropical storms or hurricanes, should a storm be threatening, please consult your local National Weather Service office or your local government officials about what action you should be taking to protect life and property.
LATEST JOESTRADAMUS ON THE LONG RANGE