Rain & Wind Late Tuesday into Wednesday
Followed By A Dry Thanksgiving Day
Rain & Wind Late Tuesday into Wednesday
Followed By A Dry Thanksgiving Day

We are headed toward Thanksgiving and it is going to get a bit difficult weatherwise on the road to Thursday. Today we have a nice sunny day but it is a cold day as temperatures will be topping out in the low and middle 40s in most places this afternoon. Monday is the best weather day of the next 3 if you are travelling to other destinations for  Thanksgiving.
High pressure is building into New England and a north wind is bringing some low level cold air southward. There are no radar issues to speak of and the satellite loops don't show much in the way of clouds near by. Skies will start clear tonight but clouds will start to arrive late tonight or Tuesday morning with lows in the 20s in most inland places and low to mid 30s elsewhere.
SATELLITE WITH LIGHTNING STRIKES

WEATHER RADAR

Tuesday we see the arrival of low pressure and a cold front. The low develops in the Southern Plains and heads to the Great Lakes where it weakens and a secondary low develops near the New Jersey/Long Island coast Tuesday night. Rain will develop from west to east during the afternoon Tuesday and last into Wednesday morning. Most of the rain will be gone before daybreak.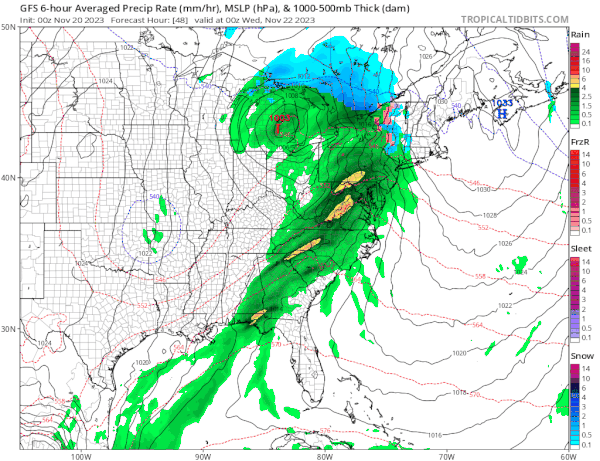 There is a warm front that will lie to the south across Maryland to the Delmarva Peninsula which sets up for band of heavier rain Tuesday night. Winds will also pick up from the southeast Tuesday afternoon and night and probably gust at times to 20 to 30 mph. Rainfall amounts from this system will be in the 1 to 2 inch range from the Carolinas to Maine along the coastal plain with lower amounts well inland.
For those of you travelling for Thanksgiving and you want snow, look to head to Northern New England where several to as much as 6 inches will fall from Northeast NY east to Vermont, New Hampshire and interior areas of rain. We could see areas down to the Catskills and Southern NY/Northern Pa start off as snow or sleet Tuesday before a change to rain occurs.
As far as temperatures are concerned Tuesday, they will struggle in the 40s for much of the day but as the warm front approaches and the low redevelops, temperatures will start to rise Tuesday night and we will see temperatures probably reach the upper 50s and lower 60s by the time we get to Wednesday morning. Wednesday the rain will be done, leftover clouds will give way to some sunshine but winds will pick up in the afternoon and pick up further Wednesday evening from the northwest. Temperatures will hold in the 50s.
Strong and gusty northwest winds will continue Wednesday night into Thanksgiving morning as low pressure offshore strengthens into a major ocean storm. We will see dry conditions with sunshine and temperatures Thursday in the 40s to around 60. Winds will gust to 30 mph or more especially along coastal areas. Dry weather will continue Friday. The weekend looks to be dry Saturday but there is a chance for some rain late in the weekend as the next low and cold front approach from the south as well as from the west.
MANY THANKS TO TROPICAL TIDBITS FOR THE USE OF MAPS
Please note that with regards to any severe weather,  tropical storms, or hurricanes, should a storm be threatening, please consult your local National Weather Service office or your local government officials about what action you should be taking to protect life and property.
(Amazon is an affilate of Meteorologist Joe Cioffi & earns commissions on sales.)