Rain Weekend Blocky Long Range March Looms
Rain Weekend Blocky Long Range March Looms
We are starting off this Friday on a rather gray note and we finish that way as well. Chilly temperatures are on the scene this morning. Inland some areas are below freezing and we have Winter Weather Advisory posted into early this afternoon for the possibility of some freezing rain. At the moment the satellite and radar loops suggest that much of what is on there this morning is moving across Eastern Pennsylvania and Central and Southern New Jersey as rain. There isn't much of anything going on at the moment in the advisory zones.
US SATELLITE

REGIONAL RADAR

LOCAL RADAR NEW YORK CITY
LOCAL RADAR PHILADELPHIA

Lookging ahead to the rest of the day and to the weekend pay attention to radars as there will be rain from time to time but there will also be stretches where it will not be raining. Temperatures will be struggling today in the 30s and lower 40s until a warm front approaches and attempts to pass by on Saturday. At the point of passage temperatures should rise into the 50s. In fact much of Saturday may wind up being rain free with just lots of clouds and a few passing showers. More numerous showers will come Saturday night into Sunday afternoon before weather conditions improve.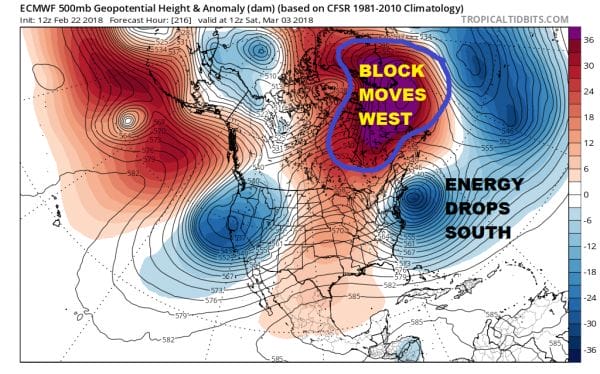 We have noted in our long range that the weather pattern is going to change to a blocking pattern. Blocking patterns displace the jet stream well south of its normal position as shown here. Sometimes (but not always) blocking patterns can lead to big storms. However sometimes blocks are so strong that they lead to storms way to our south and we are cold and dry. Depending on where you are when the block sets up it could also mean days and days of sunshine. We tend to think that the jury is still out on what will happen here once this pattern sets up which won't be until later next week. Once Sunday's system is done, the first 4 days of next week at the moment look to be rather quiet and on the mild side.

GET JOE A CIGAR IF YOU LIKE 
FiOS1 News Weather Forecast For Long Island
FiOS1 News Weather Forecast For New Jersey
FiOS1 News Weather Forecast For Hudson Valley
LATEST JOESTRADAMUS ON THE LONG RANGE