Rain Tonight Wet Snow Mixes In Well Inland Windy Cold Saturday Rain Snow Showers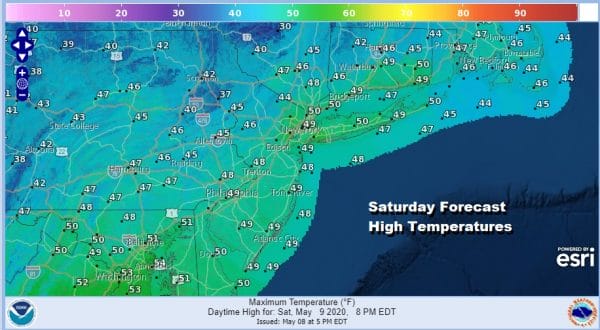 We are setting up tonight for low pressure to develop virtually right over us and then it moves northeast to near Cape Cod early Saturday morning and to the Gulf of Maine Saturday afternoon while strengthening. Clouds are everywhere now and we had some patchy rain move through this afternoon. Now comes the main thrust of precipitation this evening lasting into the early morning hours on Saturday. As rains fall and the low goes by winds shift to the north and increase.
Colder air will drive southward. By morning we will see temperatures in the mid to upper 30s. Rain might mix with some wet snow inland especially from Northwest New Jersey northeast to the Catskills and the Berkshires. I have made no changes to the snow forecast from earlier. Bear in mind that snow accumulations are going to occur in elevated areas mainly above 1000-1500 feet.
SATELLITE

REGIONAL RADAR

Regional as well as local radars are showing rain pivoting around to the northeast as the low begins to develop. Look for about a half inch of rain total overnight as the low goes by.
LOCAL RADAR NEW YORK CITY
LOCAL RADAR PHILADELPHIA

Saturday is going to be an usually cold day with windy conditions. Gusts between 30 and 40 mph are possible. Also we will see a cold upper trough move across the Northeast causing pop up showers of rain and snow to develop. Some of the stronger cells could produce some snow or graupel down to coastal areas as well as inland areas. Temperatures Saturday will be mostly in the 40s which is 15 or more degrees below average.
Saturday  night will be very cold and by Sunday morning we will be bottoming mostly in the low to mid 30s which could create late season freeze conditions over some inland areas. We will get more specific with this on Saturday. Sunday will be a better day with more sunshine, fewer clouds, less wind and highs back in the 50s.
The next weather system is a weak diver from the Great Lakes to near New Jersey/Long Island by Monday night. Clouds and a few passing showers are possible with this low. It doesn't to be a big deal however. Highs will be in the upper 50s and lower 60s. Tuesday & Wednesday look like better days with sunshine both days. Highs will be in the 50s on Tuesday and into the 60s on Wednesday. Thursday we have the next cold front approaching which should allow us to warm up into the 60s ahead of it and also bring in the chance for showers late Thursday or Thursday night. Dry weather should follow afterwards.
MANY THANKS TO TROPICAL TIDBITS FOR THE USE OF MAPS
Please note that with regards to any severe weather,  tropical storms, or hurricanes, should a storm be threatening, please consult your local National Weather Service office or your local government officials about what action you should be taking to protect life and property.