Rain Should Move Out Later Today Weekend Looking Okay,
Tropical Storm Franklin to Strengthen & Pass to the East Early Next Week
Rain Should Move Out Later Today Weekend Looking Okay,
Tropical Storm Franklin to Strengthen & Pass to the East Early Next Week
We have a warm front moving through the area this morning producing some rain and heavy downpours. The satellite loop as well as the radar loops are showing stronger potentially severe thunderstorms are to the west and south and moving southward so we don't have to worry too much about severe weather today. However the rain that is around this morning will slowly move to the east and then we have another chance for a downpour or thunderstorm later this afternoon and evening as a cold front approaches and moves through.

Temperatures today will have a bit of a wide range. North and east of NYC into Southern and Southeastern New England as well as the Hudson Valley, temperatures are not likley to get out of the 70s thanks to lots of clouds. Meanwhile Southern New Jersey and Southeastern Pennsylvania southward might break out into some sunhsine and highs there will be in the mid to upper 80s.
SATELLITE WITH LIGHTNING STRIKES

WEATHER RADAR

Tonight we will still be warm and on the humid side with leftover clouds and lows in the mid 60s to lower 70s. The weekend won't be too bad. Humidity levels will still be somewhat elevated Saturday as the cold front stalls offshore and gets hangs around for awhile. Temperatures Saturday will likley be in the in the low to middle 80s. Skies should be no worse than partly sunny.
A day or two ago I had the mention of a shower or thunderstorm in the forecast for Saturday but we can pretty much take them out of the forecast unless you are well inland in Upstate NY or New England where the air may be slightly unstable. Sunday looks like a good day as weak high pressure sits overhead. Dew points will drop a little and skies should be sunny or no worse than partly sunny with highs in the upper 70s and lower 80s.
Moving on to next week we have yet another cold front that will be approaching. We still have a stalled frontal boundary offshore, and we have Tropical Storm Franklin which today is moving slowly northeastward in the Southwest Atlantic. It is forecast to turn northward and then north northwestward over the weekend. It is also forecast to strengthen to a hurricane.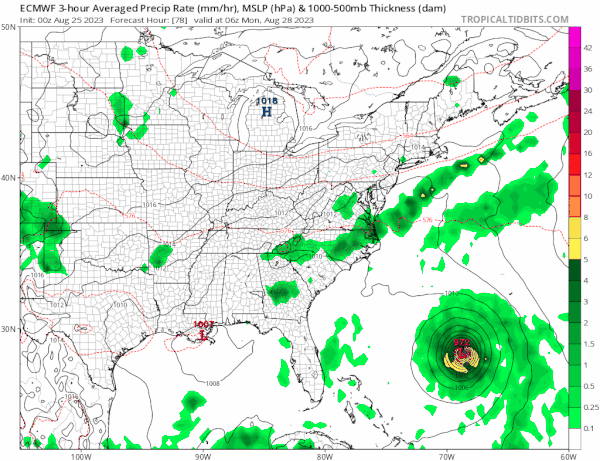 Franklin is going to pass to the west of Bermuda by a fair distance and it will pass whell to the east of the Carolinas before turning northeastward out to sea. This is going to forced along thanks to this second front that will be moving through Tuesday. Ahead of this Monday as it turns more humid we will have clouds moving in and the chance for showers and thunderstorms with highs into the 80s. Tuesday we see more showers and thunderstorms as the front nears. While Franklin moves to the east the new front extends into the Southeast. Low pressure is forecast to form in the Northwest Caribbean and move northward and this system is likely to become a tropical depression or tropical storm in the Southeast Gulf of Mexico. This creates potential risk for Florida next week especially the west coast but it is still to early to guage how this evolves. In the meantime in the Northeast with the new front passing through, it should bring drier and cooler air behind it for the second half of next week.
MANY THANKS TO TROPICAL TIDBITS FOR THE USE OF MAPS
Please note that with regards to any severe weather,  tropical storms, or hurricanes, should a storm be threatening, please consult your local National Weather Service office or your local government officials about what action you should be taking to protect life and property.
(Amazon is an affilate of Meteorologist Joe Cioffi & earns commissions on sales.)