Rain Overnight Into Tuesday More Rain Late Wednesday Thursday Very Cold Air Follows

We have been watching this cold front to our west slowly crawl toward the coast as little ripples of low pressure move along it. That has kept us in clouds all day long and we have been dealing with on and off rain all afternoon and it will continue this evening and tonight. Temperatures have been holding in the 40s all day and will likely hold there or settle in the upper 30s and lower 40s as the front just barely gets offshore. It is waiting for a stronger wave to go by tonight into Tuesday and that brings up more rain overnight into Tuesday afternoon.
SATELLITE

REGIONAL RADAR

Regional radar shows a northeast southwest band of rain lining up with the cold front. There are some patches of heavier rain in the mix along with a few breaks. The rain is heavier south of NYC and cuts off a bit north of Route 84. Expect the radar to bulge northward with the rain at some point overnight into Tuesday morning.
LOCAL RADAR NEW YORK CITY
LOCAL RADAR PHILADELPHIA

Tuesday will be wet into the early afternoon until finally the stronger wave goes by and the front pushes far enough south. Weather conditions will start to improve during the mid to late afternoon and we might even see skies clear out for awhile Tuesday night. Tuesday's highs will reach the upper 40s to mid 50s though north and east of NYC (Long Island Connecticut Hudson Valley) it will be on the low end of that range or even a bit lower.
Wednesday it starts all over again as clouds increase and thicken up. The next storm system will be heading northeast from Texas to Western Pennsylvania. The cold front to the south backs northward. Rain develops by late afternoon. In colder areas well north and west of NYC it could start as some snow or sleet before it goes to rain even in those areas.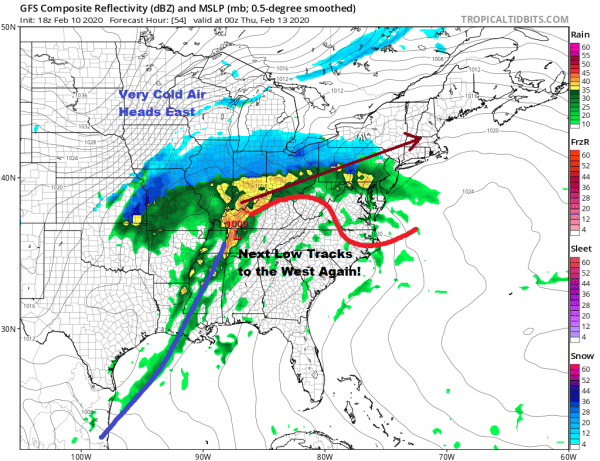 Once the low tracks through the Northeast we have a very cold air mass that will come in behind it. This winter an air mass like this is a bit unusual but we have one of those short periods where cold air breaks off from the Arctic regions and is able to drop southward. It is not an overpowering cold air mass but it will be enough to produce a few days of below average temperatures starting Friday and lasting through the weekend. Gusty winds Thursday afternoon with some sunshine developing will see temperatures settle in the 40s and drop into the 20s Friday morning. We will hold in the 20s to lower 30s all day Friday with some sunshine before heading to the teens and single digits Saturday morning. Saturday's highs will reach into the 30s with some sunshine.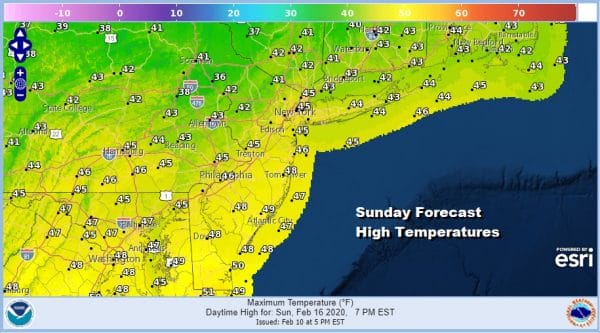 We are approaching the beginning of the time of year where temperature bounces off cold air masses tend to happen with a bit more vigor. We should be back into the 40s Sunday though there will likely be some clouds around and perhaps even a few scattered snow showers early Sunday morning as the warmer air starts to arrive. Monday is Presidents Day making this a 3 day holiday weekend. It looks to be an uneventful day of some sunshine and clouds and highs into the 50s.
Snow lovers are beginning to run out of time. Normally I wouldn't say this at this point of February but the upper air pattern across North America remains unchanged through next week and has been absolutely resolute in maintaining itself since the beginning of January. Arctic air is locked up in Canada with no where to go. The flow across Southern Canada occasionally allows for a cold high to bleed cold air southward. Weather systems in the southern stream continue their migration west to east. It is all about timing in very small windows that might open up. Once such window could open up later next week after a cold front passes the Eastern US on Tuesday but this could well turn out to be another low that tracks to the west and north of the coast. Given the way weather systems have behaved for the last 2 months it is hard to argue against that outcome. The reality is that without a catalyst to change the upper air pattern, we may likely hold on to this regime through the end of the month. That leaves little time for something to time out perfectly as we head into March. It is entirely possible that at least for the I-95 Urban Corridor, we could go the rest of the way here without seeing an accumulating snowfall! Don't bet against it.
MANY THANKS TO TROPICAL TIDBITS FOR THE USE OF MAPS
Please note that with regards to any severe weather,  tropical storms, or hurricanes, should a storm be threatening, please consult your local National Weather Service office or your local government officials about what action you should be taking to protect life and property.