RAIN MOVING NORTHWARD AS WARM AIR PUSHES NORTH
SEVERE WEATHER THREAT TUESDAY
SETTING UP FOR COLD AIR THIS WEEKEND & NEXT WEEK
Monday morning begins with satellite showing lots of cloud cover and rain moving northward through New Jersey and it will be covering the entire area in a few hours. High pressure to the northeast is creating an onshore easterly flow and we have a warm front to our south that is trying to lift northward fighting that high.
Rainfall amounts should be about three quarters of an inch to an inch from the first round of rain though there could be some locally higher amounts. Temperatures today will have a bit of rough time with highs not getting much out of the mid to upper 50s with that damp raw feeling hanging all day long.
EASTERN SATELLITE

REGIONAL RADAR

Here is the rain on the regional radar expanding and moving into Southern New Jersey and Southeastern Pennsylvania this morning. We have some embedded areas of moderate rain in the mix as well. Local radars are showing the rain increasing this morning as well.
LOCAL RADAR NEW YORK CITY
LOCAL RADAR PHILADELPHIA

Once the warm front goes by tonight the rains will end tonight with leftover clouds and fog along with steady temperatures. This sets us up for a warm day on Tuesday with highs in the 60s to near 70 and then a cold front approaches and moves through during the afternoon. This opens the door for thunderstorms and the threat for severe weather. The Storm Prediction Center is emphasizing a severe weather threat from NYC south and west with the greatest threat from Southern New Jersey and Southeastern Pennsylvania southward.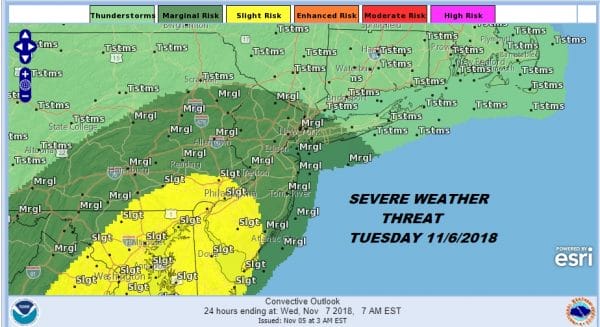 Once this cold front moves through we will see colder air coming in for the rest of the week though we aren't talking about anything particularly cold with highs into the 50s and lows in the 30s and lower 40s. We will see another cold front arrive on Friday with a wave developing on the front. This will bring a cold rain here and probably the first snows for the interior of the Northeast Friday night into Saturday morning.
Behind that low we will see a strong shot of cold air coming down out of Canada and there will likely be another front and another wave on that front to deal with early next week. This might stand a better chance for heavier snows for the interior northeast and a mechanism for bringing down more cold air later next week. The active weather pattern continues through mid month.
For more on the long range check out last night's JOESTRADAMUS post.
SUBSCRIBE TO PATREON FOR A WEATHER EXPERIENCE FREE OF ADS, EXCLUSIVE VIDEOS FOR MEMBERS ONLY AND MUCH MORE…STARTS AT $2 A MONTH..MESSAGE ME AT ANY TIME

MANY THANKS TO

TROPICAL TIDBITS

FOR THE USE OF MAPS
Please note that with regards to any tropical storms or hurricanes, should a storm be threatening, please consult your local National Weather Service office or your local government officials about what action you should be taking to protect life and property.
LATEST JOESTRADAMUS ON THE LONG RANGE