Rain Moving Through Tonight Sharply Colder By Daybreak, Weekend Outlook
Our cold front is moving through tonight with some rain. Looking at the satellite picture you can see the almost straight line appearance of the clouds from Maine southwestward back to Western Tennessee. This is due to the flat nature of this cold front. The wave on the front is weak. There isn't anything there to pull the cold air to our northwest to the coast fast enough. That's why other than a few higher elevation points in New Jersey northeast into NW Connecticut, the rain just shuts off and ends. Then it turns sharply colder overnight with morning lows in the mid 20s to lower 30s.
SATELLITE

REGIONAL RADAR

Radar shows rain moving through and the area of precipitation is rather underwhelming so we don't expect much rain out of this. It should actually be mostly done with before midnight in most places.
LOCAL RADAR NEW YORK CITY
LOCAL RADAR PHILADELPHIA

On to Friday which will be a windy cold day with sunshine and some patchy clouds. Temperatures Friday won't be going anywhere with highs in the upper 30s to a few lower 40s with wind chills in the 20s. Then we head down to the coldest temperatures of the season so far. By Saturday morning we will be waking up to temperatures in the upper teens and lower 20s in many areas.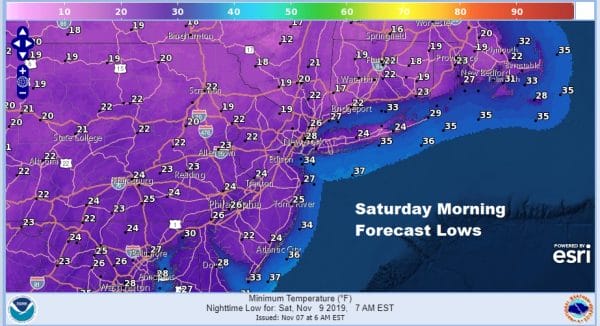 Saturday the core of the cold air is overhead and begins to slide to the east. Some high clouds will arrive mixing with sunshine with highs in the upper 30s and lower 40s. Southwest winds and some sunshine will bring temperatures back up into the 50s in most places on Sunday.
Another arctic front heads our way on Monday. The forecast is tricky because of how far east the front gets. Cold air may try to get in here ahead of another wave which might mean the chance for snow on Tuesday, or it could get hung up to the west and wait for the wave to go by first. If that is the case then we would see rain Monday night into Tuesday morning before even colder air arrives behind it.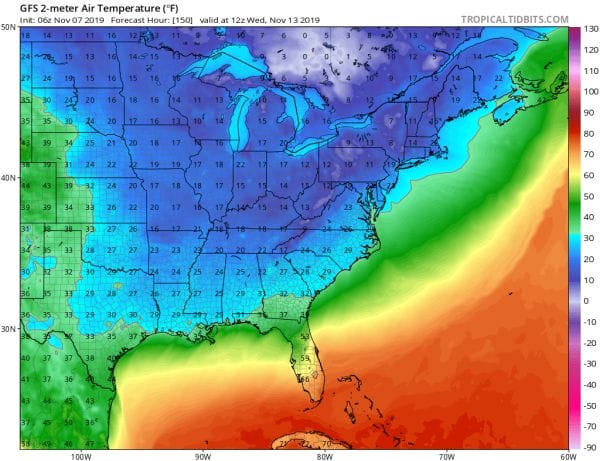 This is a very impressive cold air mass for the middle of next week and certainly colder than the air mass for Friday and Saturday. Regardless of what happens with the front and the wave get ready for a second stronger shot of cold air coming for later Tuesday into Thursday of next week.
MANY THANKS TO TROPICAL TIDBITS FOR THE USE OF MAPS
Please note that with regards to any severe weather,  tropical storms, or hurricanes, should a storm be threatening, please consult your local National Weather Service office or your local government officials about what action you should be taking to protect life and property.