Rain Moving Through Tonight Dry Through The Week
With Mostly Milder Temperatures

Rain Moving Through Tonight Dry Through The Week
With Mostly Milder Temperatures
This morning's patchy freezing rain is mostly done but some inland areas are still dealing with a bit of it this evening. Winter Weather Advisories have expired from this morning over the area but they remain in effect for Dutchess and Ulster Counties and points north as well as Northwestern Connecticut northward to Central and Northern New England. Low pressure offshore is moving northward and the story for everyone else tonight is rain. The heaviest rain is going to be from Eastern Long Island and Eastern Connecticut eastward with lower amounts as you head west across New Jersey and into Eastern Pennsylvania where it really lightens up.
SATELLITE

WEATHER RADAR

The heaviest rain to the south in Southern New Jersey and points southward into Delaware will be the area that slides toward Southeastern New England tonight with the lighter rains immediate coast and inland as the radar shows. Once this is done by daybreak or a little before. We have mostly dry weather for the rest of the week.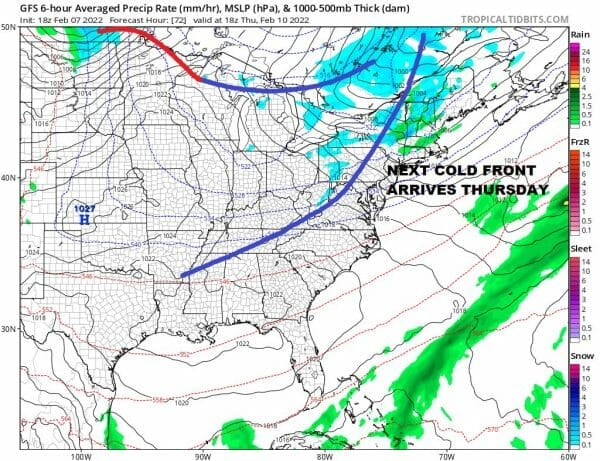 Weather conditions will improve Tuesday into Wednesday as we will see some sunshine both days. Highs will be in the relatively mild 40s. The next cold front will arrive on Thursday but it is a weak one. There might be a passing shower with that otherwise Thursday will see some clouds and limited sun with highs in the 40s. A slightly colder air mass arrives on Friday with some sunshine and temperatures in the low to mid 40s.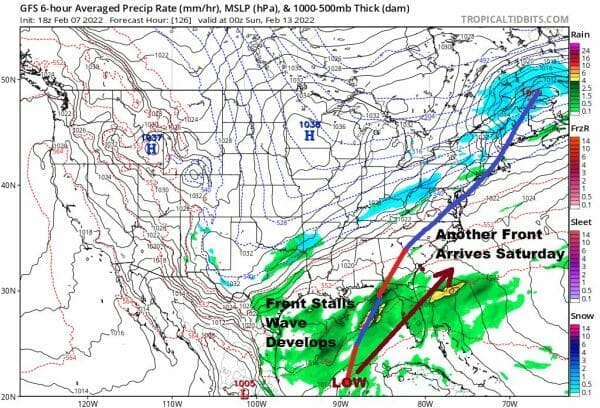 Another front arrives on Saturday and this is has colder air behind it. The southern part of the front will be stalled in the Gulf of Mexico where another wave develops and moves northeast to off the Southeast US coast over the weekend. For us we will have colder air comnig in on northerly winds and there will be some clouds around and perhaps a scattered snow shower. Highs will be in the 30s. The upper flow is west southwest off the East Coast and odds are this wave will move northeast and pass well to our south and east Sunday. However there are still some unanswered questions regarding the structure of the upper flow so we will wait another day or two to lock this in or to go to something different in the forecast for the Sunday into Monday timeframe.
Please note that with regards to any severe weather,  tropical storms, or hurricanes, should a storm be threatening, please consult your local National Weather Service office or your local government officials about what action you should be taking to protect life and property.