Rain Moving Northward Lunar Eclipse Clouds Shower Risks
Severe Weather Looms Monday

Rain Moving Northward Lunar Eclipse Clouds Shower Risks
Severe Weather Looms Monday
What is left of the upper low that has been impacting our weather both good and not so good all week has finally weakened enough that it is responding to a cold front well to the west. All the leftover moisture now is moving northward up the coast and this does not bode well for today. Clouds will be increasing. Radar shows some scattered showers around ahead of the main area that is heading north from Delaware and points south. Most of that will come during this afternoon and evening from south to north. As to weather conditions until then, changeable skies are likely. Areas north of NYC and Long Island might squeeze out some sun which why temperatures there could reach 80 or better especially in Southeast New England. Elsewhere it will be in the muggy 70s.
SATELLITE

WEATHER RADAR

Tonight looks wet with that rain area moving northward. Most of it will be gone by morning from NYC south and lasting a little longer to the north. Clouds should give way to some sunshine Sunday. Highs will reach into the upper 70s and lower 80s inland with 70s along the coast. It will be a muggy day however with humidity high making it a bit sticky. Also an upper trough will set off some convective thunderstorms in the late afternoon and early evening inland but they should die off after sunset.
Sunday night we have a total lunar eclipse that will be visible in theory starting around 10 pm. The issue will be those showers and thunderstorms in the late afternoon and evening. They should be mostly done by then however there might be a lot of leftover clouds around that will impact whether skies can at least partially clear. As long as the wind direction behaves there is a chance we could partially clear in some spots but you may have to just simply get lucky on that note.
Now let us move on to Monday when we have a high chance for thunderstorms late in the day and a set up that includes the possibility of severe weather. A cold front will approach and it comes with a sharp upper trough. Daytime heating Monday will be ample as we will have some sunshine ahead of the front. That should take many areas into the 80s.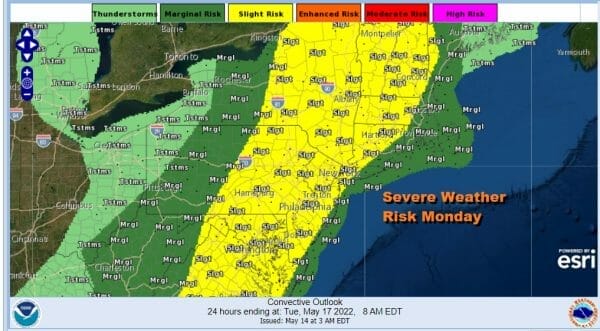 The Storm Prediction Center has a slight risk for severe weather (15%) up and down the East Coast from New England to North Carolina with marginal risk (5%) on either side. I would not all be surprised that given the dynamics of the upper air system and the appearance of jet streaks or pockets of strong winds aloft, that we could se an enhanced risk area being added when we get to Monday. After the front goes by we should see dry weather Tuesday into Wednesday.
Please note that with regards to any severe weather,  tropical storms, or hurricanes, should a storm be threatening, please consult your local National Weather Service office or your local government officials about what action you should be taking to protect life and property.