Rain Morning Commute Colder Thursday Night
SHOP THE JOESTRADAMUS STORE
Rain Morning Commute Colder Thursday Night
The first of 3 cold fronts that we will see in the next 7 days is now approaching us and clouds are increasing from the west as the satellite loop shows. This front is associated with a strengthening low in the Northern Great Lakes that will move into Southeastern Canada on Thursday. The showers with this front peaked this afternoon and have weakened some but there is enough energy for some showers to hold up. They should be moving into Eastern Pennsylvania & New Jersey during the early morning hours and reach the coast by 6am or so. They should be all done before the rush hour ends and then look for windy conditions to develop in the afternoon and for Thursday night. Temperatures overnight will hold in the 40s to near 50 and then rise into the 50s on Thursday.
SATELLITE LOOP

REGIONAL RADAR

Local radars are quiet this evening and should remain so until well after midnight. During Thursday afternoon there might be a leftover passing shower but nothing more. skies clear out Thursday night with lows in the upper 20s to mid 30s. Friday looks like the best day of the week with lots of sunshine and highs reaching into the 50s.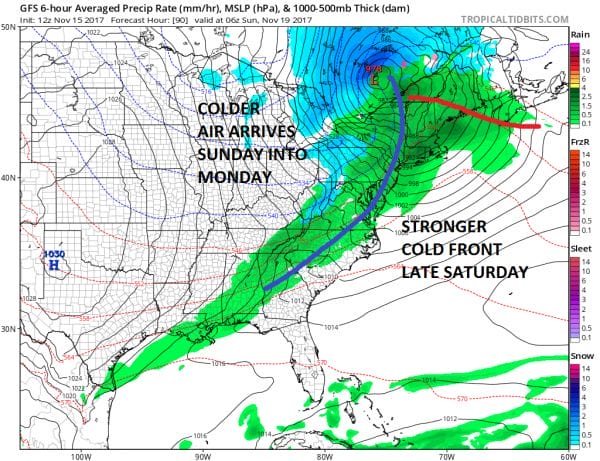 Saturday brings the next cold front but showers will probably hold off until late in the afternoon and they should be long gone by Sunday morning. Saturday's highs will be in the 50s. Then on Sunday it will be a windy and much colder day with temperatures in the 40s and wind chills in the 30s. There will be clouds and some sun and the outside chance of a shower or in colder areas even a snow shower can't be ruled out. Monday will be sunny and cold with highs just in the 40s.
Tuesday of next week sees another cold front which looks weak. Clouds will increase Tuesday and there might be a shower or two Tuesday night into Wednesday morning before cold dry air takes over for Wednesday and Thanksgiving day. Highs both days will just be in the 40s. No big storms are in the forecast through much if not all of next week. Another front is due on Friday the big shopping day with the chance for showers.
As far as the long range is concerned overall JOESTRADAMUS talks about the blocking pattern and why long range forecasts have been so volatile lately.

GET JOE A CIGAR IF YOU LIKE 
FiOS1 News Weather Forecast For Long Island
FiOS1 News Weather Forecast For New Jersey
FiOS1 News Weather Forecast For Hudson Valley
LATEST JOESTRADAMUS ON THE LONG RANGE