RAIN LATER TONIGHT INTO TUESDAY AFTERNOON 1-2 INCHES
WARM HUMID WEDNESDAY THUNDERSTORMS EVENING COULD BE SEVERE
DRY WEATHER RETURNS LATE WEEK
We continue to wait for the warm front to the south to begin moving northward. At least through this evening there should be no rain issues other than a spot shower or some drizzle. Rain should begin to break out and move northward across New Jersey tonight and spread northeastward during the early morning hours across the Hudson Valley, Southern New England and Long Island. Rain will be around for the morning commute on Tuesday so give yourself some extra time.
EASTERN SATELLITE

REGIONAL RADAR

Radars are beginning to pick up a bit this evening to the south. Look for the coverage to start increasing during the evening hours across Southern New Jersey and the Southern Half of Pennsylvania and then advancing northward from there.
LOCAL RADAR NEW YORK CITY
LOCAL RADAR PHILADELPHIA

Rain will start to taper off during the midday to early afternoon hours with 1 to 2 inches likely in most areas. Higher amounts will be north and west of the coastal areas where it is likely to rain longer.
The warm front will move northward. Temperatures will be in the 60s until the warm front passes and then likely settle in the upper 60s and lower 70s overnight Tuesday into Wednesday. Warm humid conditions will be around on Wednesday with some sunshine breaking through the clouds. An approaching cold front combined with an unstable atmosphere will likely mean some thunderstorms coming through Wednesday evening and there is the risk for severe weather per the Storm Prediction Center.
The front is going to move through as the southern end of it stalls along the Southeast coast of the US. This time around it seems the front will be far enough south so that we won't have any serious issues Thursday other than some patchy clouds mixed with some sunshine both Thursday and Friday. Highs will be in to the 80s on Wednesday ahead of the front and it is going to be humid. Dry air will lower humidity Thursday and Friday with highs just in the 70s.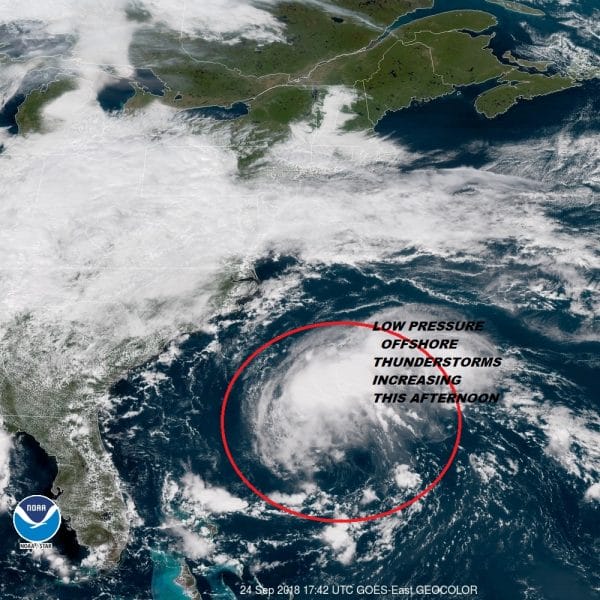 We are keeping a side eye on low pressure off the Southeast coast of the US as thunderstorms have increased some today. We have more on the tropics with the latest on Leslie & Kirk and the low off the coast in our latest post on the tropics.
SUBSCRIBE TO PATREON FOR A WEATHER EXPERIENCE FREE OF ADS, EXCLUSIVE VIDEOS FOR MEMBERS ONLY AND MUCH MORE…STARTS AT $2 A MONTH..MESSAGE ME AT ANY TIME

MANY THANKS TO

TROPICAL TIDBITS

FOR THE USE OF MAPS
Please note that with regards to any tropical storms or hurricanes, should a storm be threatening, please consult your local National Weather Service office or your local government officials about what action you should be taking to protect life and property.
LATEST JOESTRADAMUS ON THE LONG RANGE