Rain Into This Evening Stronger Cold Front Wednesday Showers Thunder Wind

We are destined for a half to three quarters of an inch of rain today as low pressure heads from the Ohio Valley to New England. It is a rather straight forward scenario here. There is no cold air obviously so we don't have precipiation type issues anywhere. Rain spreads from west to east this morning and then ends from west to east tonight.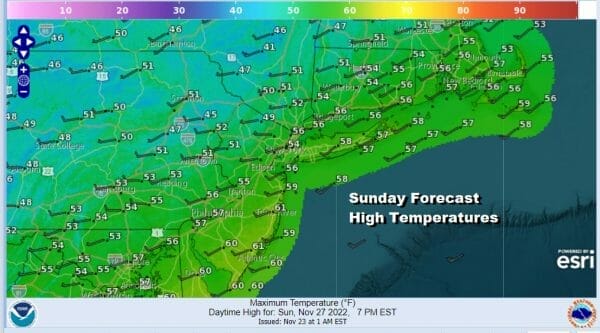 As for temperatures today most highs will reach the mid 50s to some lower 60s with the warmer temperatures to the south in Southern New Jersey to Delaware and Maryland. Lower 50s from the Middle Hudson Valley to Central New England and everyone else somewhere in between. Satellite and radar show the increasing clouds and the area of rain moving eastward. Later today look for a few heavier downpours to be in the mix.
SATELLITE

WEATHER RADAR

Everything moves along as advertised and the rain will come to an end tonight from west to east between 7pm and midnight. We will have leftover clouds for the remainder of the night. Morning lows will be in the 40s. Monday look for a better day of some sunshine with highs will be in a range of 50 to 55.
Next on the agenda this week will be a second storm system and cold front that will come out of the Southern Plains and head to Eastern Canada. This system will strengthen to a rather powerful storm once in Canada and that has implications for our weather. We can say that there are no issues Tuesday which will feature sunshine but it will be on the cold side with highs just in the 40s.
Wednesday will bring a strong cold front and with the storm strengthening in Canada winds will strengthen as well. By evening Wednesday we will be seeing gusts of 30 mph or higher and then a six hour period of winds gusting 40 mph or more. We can fine tune that over the next few days. Also in the mix will be showers and thunderstorms that will come through in bands with some dry weather in between. Temperatures Wednesday will reach the upper 50s and lower 60s.
Once the front passes Wednesday night winds will go strong northwest with some sunshine coming back for Thursday but highs will just be in the low to mid 40s. We may need to nudge those temperatures down a bit in the coming days. Friday look for sunshine and less wind with highs again in the low to mid 40s. Safe travels today if you are heading back from the Thanksgiving holidays.
Please note that with regards to any severe weather,  tropical storms, or hurricanes, should a storm be threatening, please consult your local National Weather Service office or your local government officials about what action you should be taking to protect life and property.