DOWNLOAD MY NEW FREE JOESTRADAMUS WEATHER APP FOR ANDROID

THE APP IS ABSOLUTELY FREE TO ALL BUT CONSIDERING SUBSCRIBING TO PATREON FOR A WEATHER EXPERIENCE FREE OF ADS, EXCLUSIVE VIDEOS FOR MEMBERS ONLY AND MUCH MORE…STARTS AT $2 A MONTH..MESSAGE ME AT ANY TIME
Rain Friday Colder Weekend Especially Sunday Rain New Years Eve
The next weather system is a major storm in the Plains where blizzard warnings are flying over a large area from Western Kansas northward to the Dakotas & Western Minnesota. This is going to be another soaking rain for us and with the soaked ground from the recent heavy rains, look for some localized flooding to occur in the usual suspect spots. There are no issues to worry about today with lots of sunshine around this morning. It appears that we won't have cloud cover of importance arriving until late this afternoon. Temperatures today are going to struggle a bit thanks to cold air in New England that is bleeding southward today. Highs will reach the upper 30s and lower 40s. There is nothing to worry about on the radar today and for at least the first half of tonight.
EASTERN SATELLITE

REGIONAL RADAR

We are going to see rain developing during the early morning hours from southwest to northeast. Areas well inland in the Hudson Valley (well  north and west of Route 84) could start out as some sleet or even some wet snow and Winter Weather Advisories are up for the Middle and Upper Hudson Valley into New England. This is a big ski weekend and it is likely a 4 or 5 day weekend from that respect. While there will be some snow in ski areas to the north, a change to rain will make it into interior New England with this system.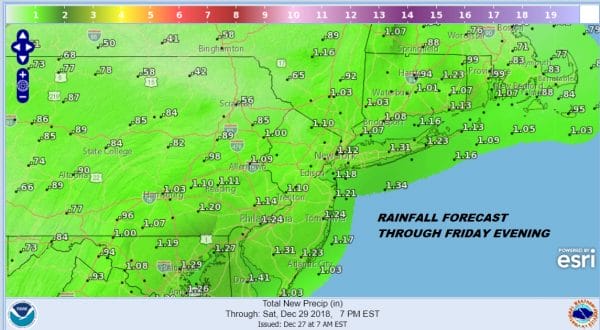 Friday it rains and it rains heavy at times with an inch to an inch and a half of rain likely as low pressure moves across the Great Lakes and Southern Canada. The rain should taper off and end from west to east during the mid to late afternoon Friday. Temperatures overnight night will hold steady and then rise through the 40s and into the 50s on Friday. Once this system pulls out weather conditions will improve Friday night with leftover clouds. Saturday with some leftover mild air and some sunshine some highs will be in the lower 50s. Then it turns colder and by Sunday morning we will be down in the 20s everywhere.
Weather models were struggling with whether we would see any precipitation on Sunday led by the parallel GFS model. We wrote about this extensively yesterday and the issue was how weather models were handling a ridge in the East and a short wave coming out of the Plains. It appears that overnight models are showing more of a ridge and less of a trough coming east. There will be an area of precipitation Sunday that appears toe suppressed well to the south. Sunday will be a cold but partly sunny day with highs just in the 30s.
MORE RAIN ARRIVES MONDAY NIGHT INTO NEW YEARS EVE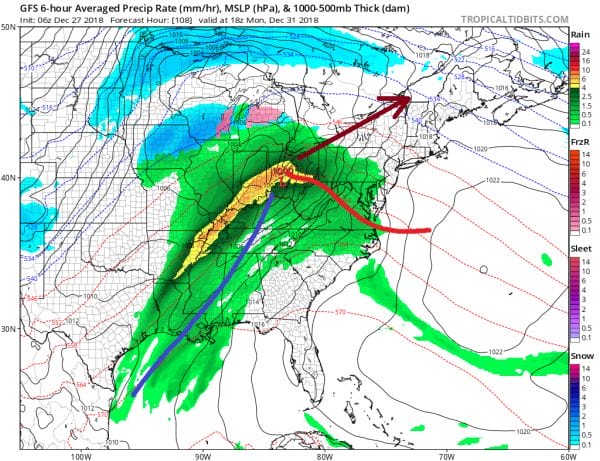 Another system revs up for Monday night into Tuesday New Years Even and this is going to be another rain event as low pressure heads up the west side of the Appalachian Mountains.  Rain will be around Monday night into Tuesday morning before weather conditions improve. The front with this system will stall out just offshore so we will need to watch to see whether another wave develops on that front and brings some rain for the arrival of the New Year. This will be something to keep an eye on in the event you are headed for outdoor celebrations. Temperatures will be reasonable for this time of year. Temperatures will be warming again Monday into Tuesday before turning colder for New Years Day.
MANY THANKS TO

TROPICAL TIDBITS

FOR THE USE OF MAPS
Please note that with regards to any tropical storms or hurricanes, should a storm be threatening, please consult your local National Weather Service office or your local government officials about what action you should be taking to protect life and property.