Rain Ends Tonight Windy Coast Record Highs Wednesday
Snow Ice Rain Thursday Night Into Friday

Rain Ends Tonight Windy Coast Record Highs Wednesday
Snow Ice Rain Thursday Night Into Friday
Tonight's weather system is moving along as advertised. We have wind advisories up for Long Island and for coastal Southeastern New England tonight. Winds will gust to 30 to 40 mph at times with perhaps gusts to 50 in Southeastern New England. Rain is on the regional radar and it is moving along to the east. We expect the rain to end during the early morning hours and it should be gone by daybreak. Temperatures won't be going down much at all tonight as we hold in the mid 40s to lower 50s.
SATELLITE

WEATHER RADAR

Wednesday we have a cold front that will pass later in the day. Ahead of it we will see clouds and some sunshine breaking through. Temperatures will be starting high and going higher until the front passes. We expect to see record highs in some areas as we reach the 60s. 70 degree highs are not out of the question especially in Central and South Jersey and points south.
For now I'm leaving the chance of a shower when the front passes out of the forecast but I will revisit this in the morning. Colder air follows and by Thursday morning under clear skies, temperatures will be in the 20s to near 30.
Clouds will increase Thursday with most highs just in the low to mid 30s. Then the next low heads up through the Ohio Valley and makes its way into West Virginia. A second low will attempt to redevelop east of Delaware and eventually that becomes the main low. To the north we have a very cold high and cold air will be stubborn to move out of the way. Snow develops Thursday night and changes to sleet and freezing rain near the coast and then ends as rain by midday. Inland and not that far inland, it will be a real struggle to get the warm air to move northward. At some point it stops. This will probably set up somewhere near route 287 in Southern NY and along the south coast of Connecticut to the east, and across Northern New Jersey south of Route 78 and that continues into Pennsylvania.
National Weather Service snow and Ice forecast maps are now in range and you can see the sharp cut off this time lies mainly east to west. Northeast Pennsylvania, Northern New Jersey, the Hudson Valley and Connecticut stand a higher chance of getting 4 inch or more amounts. Further north amounts skew higher. The cold air is wedging in from the Northeast which is why we see higher amounts in Southern and Southeastern New England.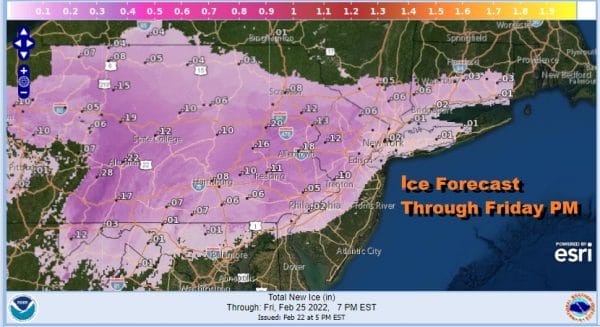 Ice accretion forecasts are very difficult since we don't see ice storms that often. I expect these numbers to go up over the next few days especially in Pennsylvania where some areas north of Route 78 could see significant icing from this. Look for adjustments in both the snow and ice forecast over the next 2 days. This all ends during the day Friday. The weekend looks colder and while we do have hints of another storm system for Sunday, the uncertainty is a bit high and I haven't been able to give that a close analysis. I usually take them one at a time, so let's get through this system before we move on to the next.
Please note that with regards to any severe weather,  tropical storms, or hurricanes, should a storm be threatening, please consult your local National Weather Service office or your local government officials about what action you should be taking to protect life and property.