Rain Develops During the Day Storm Develops Tonight Saturday Heads Northeast

Weather in 5/Joe & Joe Weather Show Latest Podcast
Rain Develops During the Day Storm Develops Tonight Saturday Heads Northeast
Our weather has already started a downhill slide as clouds are increasing. There is a weak boundary that is setting up across the Middle Atlantic states and along it we will see low pressure now along the Gulf Coast move northeast into the Carolinas and then head offshore and strengthen. After watching weather models struggle in both directions (including a couple of runs of a weak looking NAM model), they all seem roughly on the same page
SATELLITE

REGIONAL RADAR

With the arrival of clouds we are also beginning to see streaks of rain showers on the regional and local radars and that should gradually increase especially this afternoon and tonight as the low moves east. Temperatures today will top in the upper 40s and lower 50s.
LOCAL RADAR NEW YORK CITY
LOCAL RADAR PHILADELPHIA

During tonight we will see an expanding area of rain across Eastern Virginia and extending into Southern and  Southeastern New England. The heaviest rain will be confined to coastal areas up along and east of I-95.
As to the change over to sleet and snow we will see that start to the occur across Southeastern New England later in the day on Saturday and the biggest risk for heavy snow will be in Eastern New England. It is possible we could see areas in Southern New England to NYC and the Hudson Valley mix with some sleet or wet snow before it end but nothing comes of it.
Winter Storm Watches are posted for Central and Northern New England with gale warnings along the coast down to the Northern Mid Atlantic. Snow forecasts amounts have been adjusted northward. Yesterday's snow forecast map had accumulating snow extending south to the lower Hudson Valley and Northern New Jersey and Northeastern Pennsylvania. That made no sense to me and the snow map from the NWS seems to make more sense.
As for rainfall there will be a band of one to two inches of rain along the coastal plain from Eastern Virginia to Southeastern New England. In fact significant liquid precipitation totals will extend all the way up into Maine!
Rain will end from west to east Saturday morning from Pennsylvania to New Jersey and during the afternoon from Southern New England and Long Island. The low moves northeast to the Gulf of Maine. Winds will increase from the north as the low goes by and it will be rather windy especially along the coast Saturday afternoon into Saturday night temperatures will settle in the 30s.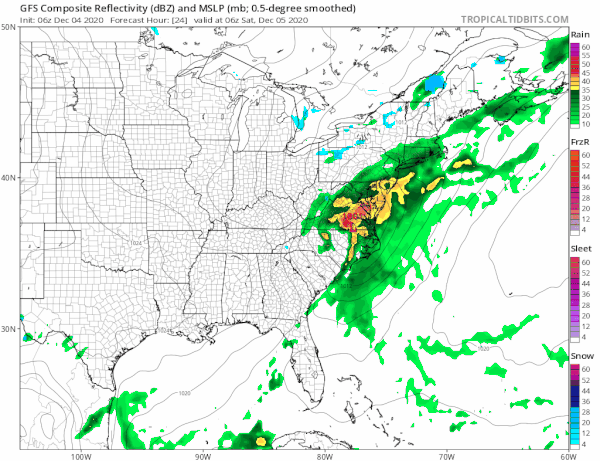 Sunday will be the better of the two weekend days with some sunshine returning though it may still be breezy with highs in the upper 30s and lower 40s. Another storm forms off the Carolinas on Monday and some high clouds will likely reach our area to veil the sunshine on Monday. The storm should move out to the northeast and be of no consequence here sometime Monday night into Tuesday so dry weather will be the story for next week.
MANY THANKS TO TROPICAL TIDBITS FOR THE USE OF MAPS
Please note that with regards to any severe weather,  tropical storms, or hurricanes, should a storm be threatening, please consult your local National Weather Service office or your local government officials about what action you should be taking to protect life and property.