Rain Arriving Monday Night Ending Tuesday Morning
We have a cold Sunday ahead of us but the satellite loop this morning shows cloud free conditions. We should enjoy plenty of sunshine today with much less wind and temperatures in the 40s. High pressure is building in from the southwest and the pressure gradient across the Northeast relaxes. All in all it will be a nice day even though we are seeing temperatures still running about 10 degrees below average. We should be up in the middle 50s on a daily basis and obviously we are falling far short.
EASTERN SATELLITE

REGIONAL RADAR

Tonight skies will be mostly clear and with light winds this could be a radiational cooling type of night which means cold spots could see temperatures down to the low 20s. We are talking pine barren areas and inland valleys. Most lows in warmer urban areas will be in the low to mid 30s.
Monday we will see sunshine giving way to arriving clouds with highs in the upper 40s and lower 50s. Then low pressure from the Gulf States moves up the coast bringing rain here. It will overspread the area Monday night from south to north and ends Tuesday by  mid late morning from south to north, and early afternoon east of NYC.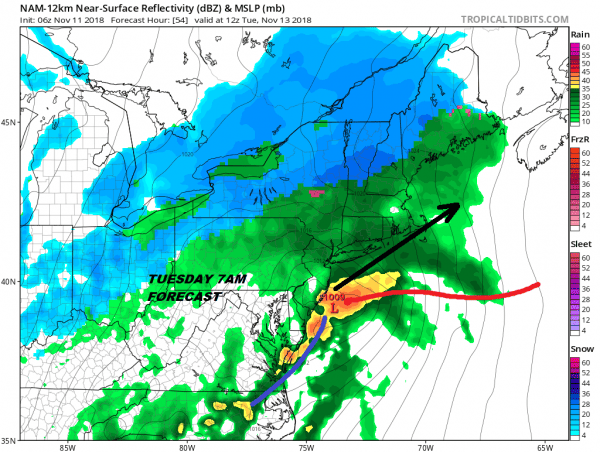 Once this system goes by the next shot of cold dry air comes in for Wednesday. A lot of energy will be left behind along the Southeast coast of the US. Another storm system will be moving up the coast on Thursday. This time around we may actually have some cold air around as the storm system heads up the coast.
One of the keys here will be the high to the northeast and whether it holds on or moves out to the East. The air to the north this time around is colder than what we have at the moment. It would seem this could be an ample snow producer for the interior Northeast later this week, and it could bring some mixed rain sleet & wet snow even down to some coastal areas. To make this a little interesting is the likelihood that a Tropical Storm will be just east of the Bahamas late this week, though that system will likely be absorbed by the developing low to the north. We will be looking closely at this weather situation for later this week over the next few days. Additional posts will be accessible to subscribers to my Patreon platform
SUBSCRIBE TO PATREON FOR A WEATHER EXPERIENCE FREE OF ADS, EXCLUSIVE VIDEOS FOR MEMBERS ONLY AND MUCH MORE…STARTS AT $2 A MONTH..MESSAGE ME AT ANY TIME

MANY THANKS TO

TROPICAL TIDBITS

FOR THE USE OF MAPS
Please note that with regards to any tropical storms or hurricanes, should a storm be threatening, please consult your local National Weather Service office or your local government officials about what action you should be taking to protect life and property.
LATEST JOESTRADAMUS ON THE LONG RANGE