Rain Arrives Thursday Ends As Mix Inland Very Cold Friday Saturday
We have lots of dry air and high pressure sitting right along the coast for tonight so we should see a nice night of clear skies. Some high clouds from the next front to our west could start to arrive toward daybreak. In the meantime temperatures tonight won't be too bad with lows in the 30s inland and low to mid 40s warmer urban areas and immediate coast. There is nothing on the radar to worry about overnight or for the first half of Thursday.
SATELLITE

REGIONAL RADAR

Thursday we cloud up quickly and and we will warm through the 50s in most areas except inland areas will be lower. This front will produce about 6 or 7 hours of precipitation that will be mostly rain. The NAM model and others are about the same. Cold air rushing in changes the rain briefly over to snow inland before it shuts off. I don't think there is enough time for anything of consequence. There could perhaps be a coating in elevated areas in Northwest New Jersey, Hudson Valley and Northwest Connecticut mainly north of Route 84.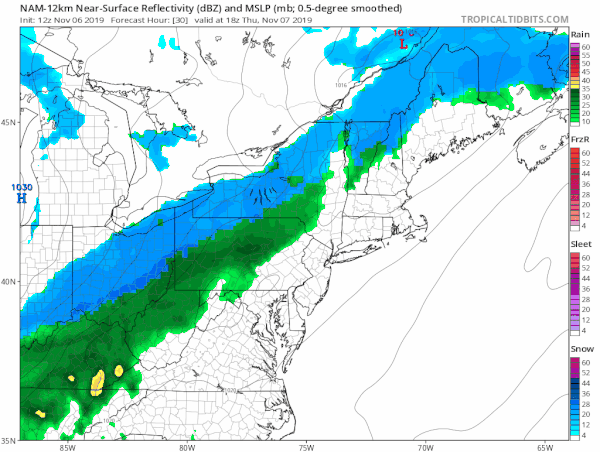 By Friday morning the cold will be here and we will be down in the upper 20s to mid 30s with a gusty northwest wind developing. We will have some sunshine on Friday but temperatures are going nowhere with highs just in the upper 30s and lower 40s. By Saturday morning we will be down in the 20s just about everywhere.
Saturday will be the coldest day of the Autumn season so far with highs just barely back into the 40s and some areas inland will be in the 30s all day. At least the wind will be down on Saturday making for a nice day with plenty of sunshine.
Sunday will be the rebound day for temperatures as high pressure moves offshore. Sunshine should be with us most of the day though some high clouds could come in late. HIghs will be back into the 50s. Another polar cold front will be arriving on Monday. Behind it to the west is a very cold high with very cold air.
This time around there will be more cold air arriving before the wave arrives which means there could be a better chance for snow with this system then the one for tomorrow. Another shot of very cold will be in the Eastern US which will be colder than the air mass for Friday/Saturday.
MANY THANKS TO TROPICAL TIDBITS FOR THE USE OF MAPS
Please note that with regards to any severe weather,  tropical storms, or hurricanes, should a storm be threatening, please consult your local National Weather Service office or your local government officials about what action you should be taking to protect life and property.