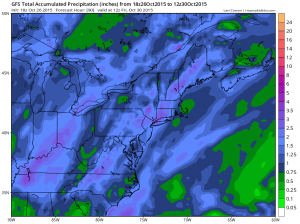 The afternoon round of weather models continued the trend from midday as the forecast amounts of rain have increased. Models are beginning to recognized the strong southeast inflow from the Atlantic plus the Patricia enhanced rain. The European today which was the driest of all the models has also doubled its rainfall forecast to 1 to 2 inches. All of this put together bodes well for perhaps a 1.5 to 2.5 inches of rain for the entire area and there may be some locally higher amounts in some thunderstorms.
The National Weather Service rainfall map has also doubled its total rainfall amounts to between 1 and 2 inches for everyone from Eastern Pennsylvania through Southern New England and everyone in between. It is hard to believe that we have seen only 1 widespread rain event at the beginning of this month and it was from the noreaster conditions we experienced while Hurricane Joaquin was over the Bahamas.
This is very encouraging as this is only the second time in the last 5 weeks that we have seen a widespread rainfall. My FiOS1 News weather forecasts for Long Island.
Once we get through Wednesday night weather conditions should improve on Thursday which should be mild for much of the day until colder air begins to arrive Thursday night. Friday and Saturday look dry. Halloween looks good for the kiddies and the grown ups trick or treating.
In case you missed some of the earlier posts we have the latest from JOESTRADAMUS on North America snowcover, yesterday we had the latest from JOESTRADAMUS on Siberian snow cover and el nino, and of course my earlier discussion on the short term forecast.
Of course download my weather app and subscribe to my forecasts for NY NJ PA and CT. The app is free and a subscription is just 99 cents a month.