Quiet Week Ahead Above Average Temperatures No Storms Or Cold Fronts

Weather in 5/Joe & Joe Weather Show Latest Podcast
Quiet Week Ahead Above Average Temperatures No Storms Or Cold Fronts

We have all seen the devastation from the severe weather and tornadoes that ripped across Kentucky, Illinois, Missouri, Tennessee, and some surrounding states. Fortunately the severe weather here in the east last night was relatively well contained and now that the sharp cold front has moved offshore we are seeing a nice day of weather. The satellite shows the sharpness of the cold front by the sharp cut off of the clouds. Temperatures today will be in the upper 40s to around 50 and we will continue to enjoy ample sunshine.
SATELLITE

WEATHER RADAR

While we still remain in a warm weather pattern in the Eastern US this week, it will be a benign week with not much in the way of rain. Under mainly clear skies tonight lows will be in the upper 20s to mid 30s. Monday will be a nice day of sunshine with highs reaching the low to mid 50s..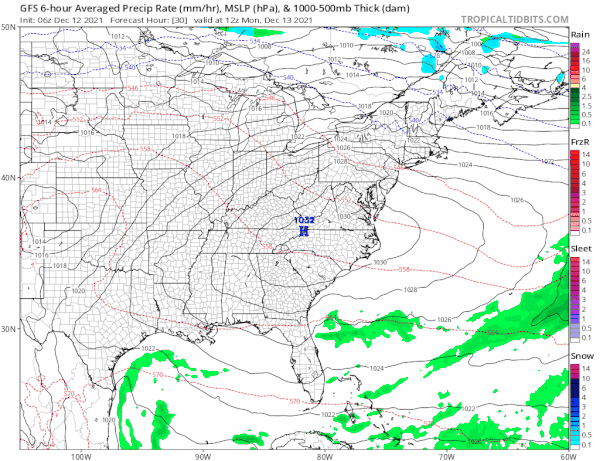 About the only weather change this week, and its a minor one comes Tuesday as a back door front moves southward and high pressure builds from Southeastern Canada. There is no associated weather with the front so other than some clouds, it should be no worse than partly sunny Tuesday and Wednesday with highs in the upper 40s to mid 50s. Thursday our winds turn southwest with another approaching cold front though this front doesn't have much to work on. Thursday should see a fair amount of sunshine with highs reaching into the 60s, making it the warmest day of the week.
A cold front should pass Thursday night with little fanfare leading us to a slightly cooler Friday of sunshine and highs in the 50s. The longer range does show signs of changing next weekend and the week going into Christmas though what that change exactly is at this point, I'm not sure. It does seem we should get into a pattern with temperatures closer to average but I am not seeing any specific winter storm threats. I do believe that the pattern should perhaps open up to a window of opportunity for snow at some point in the last 10 days of December.

Please note that with regards to any severe weather,  tropical storms, or hurricanes, should a storm be threatening, please consult your local National Weather Service office or your local government officials about what action you should be taking to protect life and property.