Quiet Weather Pattern Next 5 Days With Above Average Temperatures & Little Precipitation

The weekend begins with a rather dull weather pattern. It isn't perfect but it is dull with not much in the way of storm systems and the ones that are around are rather weak. We see cloud cover rolling through from time to time on the satellite loop and some streaks of precipitation aloft on the radar but overall today should be a partly sunny to mostly cloudy type of day with most high temperatures today in Eastern Pennsylvania to Southern New England in the mid 40s. Most lows tonight will be in the 20s inland and lower 30s in warmer urban areas with partly to mostly clear skies.
SATELLITE

WEATHER RADAR

Weak weather systems continue to move along in the flow and the next one in this series comes Sunday night into Monday. Low pressure coming out of the Plains is moving east and off the coast. There isn't much for this system to work on so it will bring some precipitation Sunday night into Monday morning that really won't amount to much.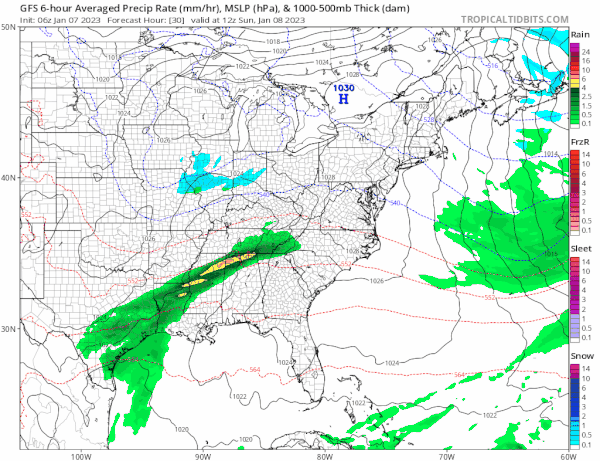 The fact is that the amount of cold air around is minimal. Also the low once offshore doesn't really develop very much until it is well offshore so we are left with a system that produces at most a tenth of an inch or so of liquid precipitation. As far as snow is concerned, it falls at night so a coating to perhaps at most an inch might stick to colder surfaces and this will be mainly in elevated areas.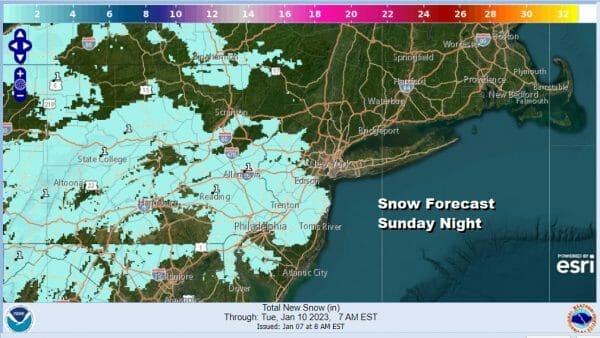 Meanwhile at least the daytime Sunday we will see sunshine probably give way to late day arriving clouds. It will be another day that will be warmer than average for this time of year but not overly so as temperatures settle for lower 40s for afternoon highs. Sunday night into Monday morning temperatures will likely be in the low to mid 30s with light precipitation.
Monday we begin the week with this system from Sunday night moving away with precipitation in whatever form ending in the morning and leftover clouds Monday afternoon. Highs will reach into the 40s. There isn't much in the way of cold air coming in behind this system because there isn't any cold air to speak of anywhere in the United States.
Tuesday brings a day of sunshine and highs continue to run about 5 degrees above average as we reach the low and middle 40s. Wednesday we see a cold front and another low moving southeastward froLLm the Great Lakes that redevelops off the coast. Highs Wednesday will be in the 40s with partly sunny skies and just a chance for a rain or snow shower. We will turn colder Thursday and Friday and we do see a stronger storm coming east for later Friday and into next weekend. We will be talking more about this Sunday on the Joe & Joe Weather Show at 11 am on my youtube channel.
Please note that with regards to any severe weather,  tropical storms, or hurricanes, should a storm be threatening, please consult your local National Weather Service office or your local government officials about what action you should be taking to protect life and property.