Quiet Evening Warmer More Humid Next 3 Days Sunshine Dry Saturday Sunday
Warmer Labor Day Late Thunderstorms
We did struggle with clouds most of today though every so often the sun managed to poke its nose through. Some places saw more of that than others. This evening you can see the clouds on the satellite with some breaks. Offshore to the southeast is Tropical Storm Omar which formed this afternoon. Omar is moving away to the east northeast and is no threat to land. We will have clouds around tonight with most lows in the mid 60s to lower 70s. Humidity levels are coming up. Not much is happening on the radar this evening but we could see a few shower develop during the hours before daybreak Wednesday.
SATELLITE

REGIONAL RADAR

A warm front moves through Wednesday morning putting us in a warm and humid air mass. We will see some breaks of sunshine and that could allow for some scattered showers or thunderstorms to pop up but not everyone will see one. Highs Wednesday will be back into the 80s.
There was nothing in today's run of weather models that changes the forecast from Thursday through Monday. Thursday will be warm and humid with some sunshine and the chance for scattered thunderstorms. Highs will be in the mid to upper 80s.
Friday as the GFS model run shows, a cold front moves through Friday and there won't be much with it. We will see clouds and some sun and while the day will start humid, humidity levels will start to drop late Friday and then plummet Friday night. Highs will be in the 80s.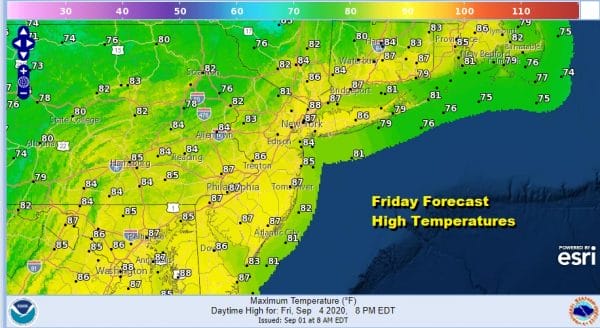 A dry nice area of high pressure from the Middle Mississippi Valley builds in for Saturday and Sunday. We will have lots of sunshine for both weekend days. Highs both days will be in the 70s. Monday Labor Day looks to be warmer and more humid but it now seems the cold front will take longer to get here so we may go all three days with no rain! Highs on Monday Labor with some sunshine will be in the mid to upper 80s though the humidity will be on the high side.
MANY THANKS TO TROPICAL TIDBITS FOR THE USE OF MAPS
Please note that with regards to any severe weather,  tropical storms, or hurricanes, should a storm be threatening, please consult your local National Weather Service office or your local government officials about what action you should be taking to protect life and property.