DOWNLOAD MY NEW FREE JOESTRADAMUS WEATHER APP FOR ANDROID

THE APP IS ABSOLUTELY FREE TO ALL BUT CONSIDERING SUBSCRIBING TO PATREON FOR A WEATHER EXPERIENCE FREE OF ADS, EXCLUSIVE VIDEOS FOR MEMBERS ONLY AND MUCH MORE…STARTS AT $2 A MONTH..MESSAGE ME AT ANY TIME
Quick Shot of Snow Tuesday
Weather Models Show No Changes
We continue to sit in the high clouds which is the northwest fringe of a coastal storm off the Carolina coast. That storm is getting ejected out to the northeast and other than the clouds it is no threat here.  There is more in the way of sunshine as you go north and west today. Temperatures are chilly and we will be in the 30s for highs. To the west we can see the beginnings of clouds with low pressure over the Great Lakes. The first of two cold fronts will be approaching tonight and Tuesday and from this we could get a burst of snow on Tuesday into Tuesday night.
EASTERN SATELLITE

REGIONAL RADAR

We don't see any real changes in the outlook for Tuesday into Tuesday night. Early Tuesday we will see some warm advection (warmer air coming in from the southeast) and this could trigger off some freezing rain or freezing drizzle Tuesday morning. Then we wait for the polar front and a 3 to 6 hour burst of snow at most that leaves as little as a coating to as much as several inches in some areas.
I'm not making any changes to the early call forecast and judging from my first look at weather models they seem to be coming around to my idea of what the outcome will be. Once any snow ends tomorrow night (by midnight it is done in most areas) attention shifts to a second front  Wednesday afternoon that brings in some snow showers and snow squalls around midday. After that temperatures drop to single digit lows by Thursday morning.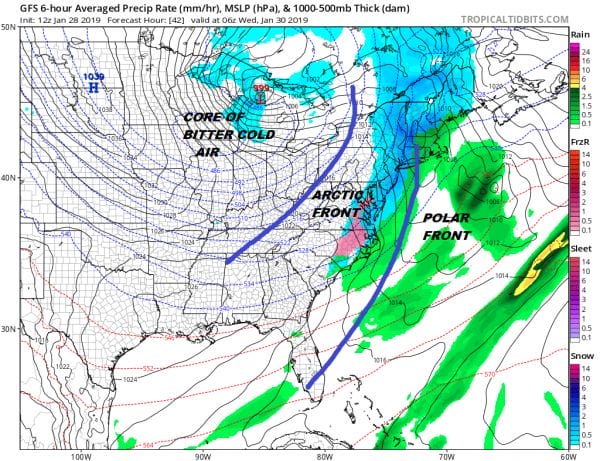 The core of the cold air will move in on Thursday and out by Friday morning. The warm up that follows will be fast. After highs Thursday just in the teens and another night of single digit lows Thursday night, warm air will bring clouds and the chance for a little snow on Friday. Then it warms up over the weekend with rain coming later on Sunday. This will be another instance of all this bitter cold air with minimal snow and then it warms up and rains without a flake or an ice pellet.
MANY THANKS TO

TROPICAL TIDBITS

FOR THE USE OF MAPS
Please note that with regards to any tropical storms or hurricanes, should a storm be threatening, please consult your local National Weather Service office or your local government officials about what action you should be taking to protect life and property.