Polar Vortex Flexing Muscle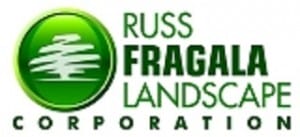 MENTION JOE CIOFFI AND GET A 5% DISCOUNT
Watching the Polar Vortex Flexing Muscle this time of year can be a violent exercise. When you have the equivalent of polar air coming into the Northeast this time of year, it sets up a violent boundary in between it and the warmer air just to the south. Such is the case on Tuesday and that boundary looks to settle across the Hudson Valley and Long Island. This puts New Jersey and Eastern Pennsylvania at risk for severe thunderstorms. There temperatures will rise into the 70s and perhaps near 80 in some spots, while temperatures in the Hudson Valley and Long Island will likely be falling through the 50s and into the 40s during Tuesday afternoon!
Polar Vortex Flexing Muscle
GFS UPPER AIR FORECAST
Blocking is to blame for all this. A very strong North Atlantic block has developed and this is locking the polar vortex in Eastern Canada for the next few days. This has 2 important implications. The first is the threat for severe weather on Tuesday in the above mentioned areas. The second is in regards to the weather system that is in the Rockies. With the vortex to the north, that system is effectively blocked from moving toward the Great Lakes which would be its natural tendency to do this time of year. Instead it will be forced eastward and toward the Middle Atlantic Coast. The result here will be dry weather on Wednesday but then raw and rainy conditions will take over during Thursday and for at least part of Friday.
Polar Vortex Flexing Muscle
GFS SURFACE MAP THURSDAY EVENING
The primary low dies out in the Ohio Valley and redevelops at the coast. This could be a nice set up for a good solid soaking rain here. The Euro Model has a similar idea though it is further south. The strength of the block will determine just how far north the rain gets. The stronger the block, the further south everything will be. Either way temperatures will be quite chilly through all this. How chilly is this air mass? Well it isn't very often even in Northern New England that you see snow in late April!
Polar Vortex Flexing Muscle
GFS SNOWFALL FORECAST THROUGH WEDNESDAY
Longer term late next weekend and early next week both the Euro model and the GFS model have a rather impressive looking system coming our way and with the blocking still somewhat active, it could be fairly wet weather system indeed.
FiOS1 News Weather Forecast For Long Island
FiOS1 News Weather Forecast For New Jersey
FiOS1 News Weather Forecast For Hudson Valley
NATIONAL WEATHER SERVICE SNOW FORECASTS
LATEST JOESTRADAMUS ON THE LONG RANGE

NOMINATED FOR AN APPY AWARD FOR BEST WEATHER APP!!
Weather App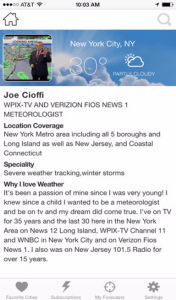 Don't be without Meteorologist Joe Cioffi's weather app. It is really a meteorologist app because you get my forecasts and my analysis and not some automated computer generated forecast based on the GFS model. This is why your app forecast changes every 6 hours. It is model driven with no human input at all. It gives you an icon, a temperature and no insight whatsoever.
It is a complete weather app to suit your forecast needs. All the weather information you need is right on your phone. Android or I-phone, use it to keep track of all the latest weather information and forecasts. This weather app is also free of advertising so you don't have to worry about security issues with your device. An accurate forecast and no worries that your device is being compromised.
Use it in conjunction with my website and my facebook and twitter and you have complete weather coverage of all the latest weather and the long range outlook. The website has been redone and upgraded. Its easy to use and everything is archived so you can see how well Joe does or doesn't do when it comes to forecasts and outlooks.
Just click on the google play button or the apple store button on the sidebar for my app which is on My Weather Concierge. Download the app for free. Subscribe to my forecasts on an ad free environment for just 99 cents a month.
Get my forecasts in the palm of your hand for less than the cost of a cup of Joe!