Pesky Low Still Lurking About Very Warm to Hot Next Few Days

Weather in 5/Joe & Joe Weather Show Latest Podcast
Pesky Low Still Lurking About Very Warm to Hot Next Few Days
The small low pressure area that was sitting off our shoreline for the last several days has finally moved to southeast of Cape Cod but the circulation is still obvious on the satellite views. It is producing clouds on the back side that extend southwestward into Eastern Pennsylvania. This will be cutting down on some of the sunshine today and also some of the daytime heating.
Draw a line from Scranton Pa to Trenton NJ to Toms River New Jersey and from there south and west there will be enough sun to take temperatures up to the lower 90s. North and east of that line most highs will be in the 80s this afternoon. Humidity will be high no matter where you go and that sets up hot and humid conditions for Wednesday and Thursday,
SATELLITE

We are going to throw in the chance for a pop of shower or thunderstorm today since we have seen a couple already from early this morning and with the high humidity, another one or two could pop up this afternoon but they should be scattered in nature.
WEATHER RADAR


A very warm and humid night lies ahead and that sets us up for hot and humid weather for the rest of the week. Heat Advisories and Excessive Heat Warnings are posted for Wednesday and Thursday with heat indices over 100 and in some places over 105. Wednesday's highs will be in the low to mid 90s except cooler along the shore. Thursday highs could reach mid to upper 90s away from the ocean.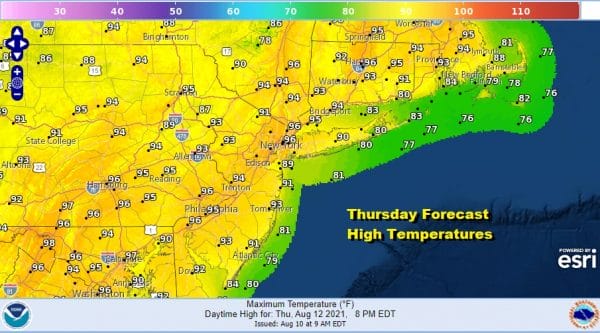 Wednesday we could see a scattered shower or thunderstorm. Thursday there could be late day and evening Thunderstorms from Northern Pennsylvania and into the Hudson Valley of NY but this potential line of storms should weaken as it heads toward the coast. None the less the Storm Prediction Center has a marginal risk of severe weather indicated for inland areas.
We will see heat and humidity continue on Friday with highs reaching the low and mid 90s with high humidity. We do have a cold front and an upper trough approaching Friday and this will open the door to the chance of thunderstorms
When the Storm Prediction Center indicates risk in their long range it is usually a good idea to pay attention. This doesn't happen too often in our area but they are indicating risk for Friday and 15% risk would be the equivalent of "slight risk" of severe thunderstorms.
The front could provide a little humidity relief over the weekend but the bulk of the dry air goes to our north leaving us with very warm and somewhat less humid conditions for Saturday and Sunday. Models also suggest that over the weekend what could be Tropical Storm Fred moving northward in the Gulf of Mexico and heading perhaps for Western or Northwest Florida
There is much uncertainty here from the stand point of the tropical system An upper ridge should drive it westward into the Gulf rather than up the East Coast. In the meantime we watch and track. Try your best to manage the heat over the next few days.

Please note that with regards to any severe weather,  tropical storms, or hurricanes, should a storm be threatening, please consult your local National Weather Service office or your local government officials about what action you should be taking to protect life and property.