Pattern Changes Lie Ahead
Pattern Changes Lie Ahead
Chatter across the internet weather world is all about not net week but beyond next week which of course leads to all sorts of cataclysmic predictions of snow on January or February ______ (fill in with multiple dates)  or another between the hours of _am and _pm (fill in the blank).  Since the idea of doing something like that is, in my view, is not very accurate (nor very smart). JOESTRADAMUS will approach this with his own usual view of caution. He also reminds everyone the pattern changes you get may not result in the outcome you want.
PATTERN CHANGES GFS NEXT THURSDAY NIGHT
What JOESTRADAMUS believes is happening is that this is one pattern change occuring in two stages. The first stage later next week which shows what I would view as an almost wholesale upheaval of the upper pattern with ridging basically dominating the entire Western and Northwestern Atlantic corresponding with a deep trough in the west which is giving much of the west, especially the Northwest US their coldest winter in many years. This pattern has been so extreme that the drought in California has been relieved by one big storm this week producing up to 10 feet of snow in the mountains and heavy rains everywhere else! What is happening is that the ridge in the Atlantic builds so strongly that it basically forces the entire upper pattern structure in Canada and the west to change as we progress from day 7 to day 10.
PATTERN CHANGES GFS MODEL MONDAY JANUARY 23

By Day 10 the full scope of what is happening becomes clear as there is a huge blocking high and building pressures all across the polar regions awhile the main jet stream is in the process of being displaced southward. Ridging appears in the west for the first time in nearly 2 months. A split flow Pacific jet appears strong with system after system lined up.
PATTERN CHANGES GFS MODEL DAY 13-16
CLICK TO ANIMATE
The result after day 10 is a pattern that favors a slow transition to a colder than normal regime in the east and warmer regime in the west. We should say at this point that weather models across the board seem to be telegraphing this. Also we should say at this point that nothing here suggests nor should it suggest anything specific regarding the day to day. JOESTRADAMUS believes this is going to happen and it will take the next 10 days or more to play out.
MANY THANKS TO TROPICAL TIDBITS FOR THE WONDERFUL USE OF THE MAPS
SNOW REMOVAL COMPANIES FOR YOUR WINTER NEEDS
             LONG ISLAND                                ROCKLAND COUNTY                   Connecticut
     ROCKLAND COUNTY                         TRI STATE SNOW REMOVAL                           JOHNSTOWN PA
FiOS1 News Weather Forecast For Long Island
FiOS1 News Weather Forecast For New Jersey
FiOS1 News Weather Forecast For Hudson Valley
NATIONAL WEATHER SERVICE SNOW FORECASTS
LATEST JOESTRADAMUS ON THE LONG RANGE
Weather App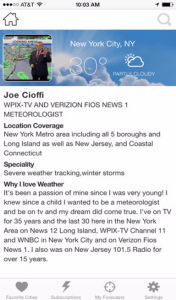 Don't be without Meteorologist Joe Cioffi's weather app. It is really a meteorologist app because you get my forecasts and my analysis and not some automated computer generated forecast based on the GFS model. This is why your app forecast changes every 6 hours. It is model driven with no human input at all. It gives you an icon, a temperature and no insight whatsoever.
It is a complete weather app to suit your forecast needs. All the weather information you need is right on your phone. Android or I-phone, use it to keep track of all the latest weather information and forecasts. This weather app is also free of advertising so you don't have to worry about security issues with your device. An accurate forecast and no worries that your device is being compromised.
Use it in conjunction with my website and my facebook and twitter and you have complete weather coverage of all the latest weather and the long range outlook. The website has been redone and upgraded. Its easy to use and everything is archived so you can see how well Joe does or doesn't do when it comes to forecasts and outlooks.
Just click on the google play button or the apple store button on the sidebar for my app which is on My Weather Concierge. Download the app for free. Subscribe to my forecasts on an ad free environment for just 99 cents a month.
Get my forecasts in the palm of your hand for less than the cost of a cup of Joe!