Pattern Change Coming Again
Get ready folks because another pattern change is coming. The recent change from the extreme pattern of last December changed at the very beginning of this month but as I have pointed out, just because the pattern changed, doesn't mean that it changes to the pattern you like. Many people got hung up with the fact that all the indexes were lined up for a snowstorm. Well guess what? Didn't happen because in the end you can have all the indexes right and if the atmosphere doesn't line up right those indexes really don't matter.
Pattern Change Coming
As far as the pattern change coming and where is it going, the North Atlantic Oscillation goes positive which means no blocking. Frankly the NAO is overrated in my view. The Eastern Pacific Oscillation goes positive which is not good either. It doesn't favor cold in the east. The Pacific North America pattern index is positive which puts a ridge in the west. But without blocking somewhere, it really doesn't do you a lot of good.
Pattern Change Coming European Model
The European doesn't really show anything that I would regard as bullish for winter lovers. The blocking is gone by day 10. The vortex in the arctic is beginning to set up again which cuts off cold air. Ridging is beginning to develop in the east and the Pacific is becoming a mess again. Meanwhile the GFS at day 16 is back to something that looks like December with a strong ridge in the east. Now the question is whether this is just a temporary flip or not. My own view is that this may not be something temporary and that it might carry through for a good chunk of February. But this is just my own opinion. 
Pattern Change Coming GFS Model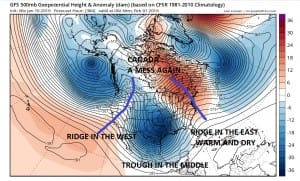 Often times long term patterns run for a couple of months, break down for a couple of weeks, and the come back for a second run; at least that has been my experience in all this. I think that it is becoming more and more clear that whatever other factors out there be it Siberian snow cover, the warm Pacific Ocean in the Gulf of Alaska, blocking, or anything else you come up with, they are all trumped by a strong el nino. I think at this point that forecasters who were calling for a cold and snowy second half of the winter (February-March) might be in serious trouble ( I retain an open mind on this). I think we may just have to wait for one moment (if it comes) for that one snowfall of consequence and everything will have to set up perfectly for this. It just seems to me that when you have a low in the 980 ish pressure range take a perfect track for snow and you don't see snow anywhere including inland areas, your winter is in serious trouble.
Pattern Change Coming Long Range Weather Video
A number of you have told me that you are having trouble accessing my page via facebook. It seems your facebook app may have hijacked my page with one of those annoying viruses that re directs a link. You may have to update or redownload and install your facebook app again. This should clean things up.
NATIONAL WEATHER SERVICE SNOW FORECASTS
LATEST JOESTRADAMUS ON THE LONG RANGE
Weather App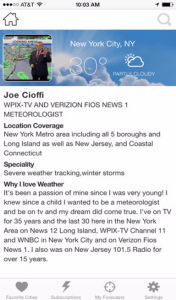 Winter is here! Don't be without Meteorologist Joe Cioffi's weather app. It is a complete weather app to suit your forecast needs. All the weather information you need is right on your phone. Android or I-phone, use it to keep track of all the latest weather information and forecasts. This weather app is also free of advertising so you don't have to worry about security issues with your device. An accurate forecast and no worries that your device is being compromised.
Use it in conjunction with my website and my facebook and twitterand you have complete weather coverage of all the latest weather and the long range outlook. The website has been redone and upgraded. Its easy to use and everything is archived so you can see how well Joe does or doesn't do when it comes to forecasts and outlooks.
Just click on the google play button or the apple store button on the sidebar for my app which is onMy Weather Concierge. Download the app for free. Subscribe to my forecasts on an ad free environment for just 99 cents a month.
Get my forecasts in the palm of your hand for less than the cost of a cup of Joe!