DOWNLOAD MY NEW FREE JOESTRADAMUS WEATHER APP FOR ANDROID

THE APP IS ABSOLUTELY FREE TO ALL BUT CONSIDERING SUBSCRIBING TO PATREON FOR A WEATHER EXPERIENCE FREE OF ADS, EXCLUSIVE VIDEOS FOR MEMBERS ONLY AND MUCH MORE…STARTS AT $2 A MONTH..MESSAGE ME AT ANY TIME
Patchy Freezing Rain Northern NJ Eastern PA Wednesday Morning
Some Winter Weather Advisories have gone up for North Central Pennslyania mainly north of Route 76. This is for some light freezing rain or freezing drizzle Wednesday morning. We could see a few more added to this later this afternoon. I've drawn in the area I think is at risk for some patchy freezing rain or freezing drizzle though it is likely to be patchy rather than widespread.
We have a bit of a tricky situation for Wednesday morning. Warm air is moving rapidly toward us. We still have quite a bit of cold air left overhead though the core of the cold air has already moved out to the east. Temperatures have recovered today with highs reaching the mid and upper 20s. Clouds out to the west will be key to temperatures overnight. If it is clear for at least part of the night and winds dropping to light and variable, we will likely see temperatures drop into the teens in most inland areas. This could set us up for patchy freezing rain Wednesday morning into midday.
EASTERN SATELLITE

REGIONAL RADAR

The problem is that the precipitation is appearing as patchy on the weather models with no real agreement on how much of the area will get involved in this. The rain is light in nature but it is enough that it could slicken up surfaces tomorrow morning into early afternoon.
Rainfall amounts here are only trace to .05 of an inch. That is enough to create icy conditions. You can see on the loop where the risk area is as it extends from South Central Pennsylvania northeast into Northern New Jersey. Don't be fooled by the lightness of the precipitation!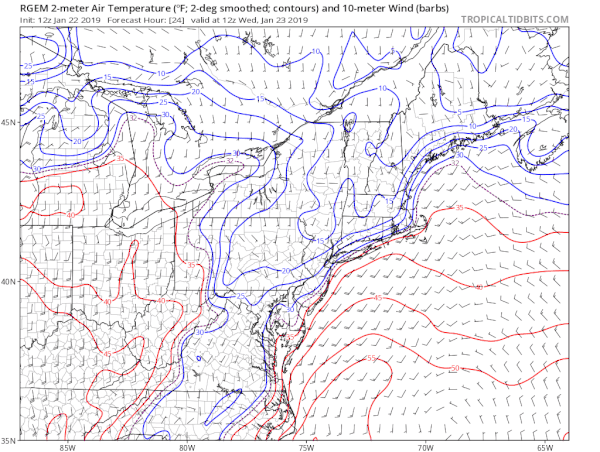 The loop above shows the 32 degree line beginning Wednesday morning at 7am and ending at 2pm. The area below 32 gradually shrinks as the day wears on. I think it is best to err on the side of caution here and understand the risk for freezing rain exists from parts of South Central Pennsylvania to parts of Northern New Jersey to the parts of the Hudson Valley and leave it at that. It all goes to rain later in the afternoon and continues at night into Thursday.
MANY THANKS TO

TROPICAL TIDBITS

FOR THE USE OF MAPS
Please note that with regards to any tropical storms or hurricanes, should a storm be threatening, please consult your local National Weather Service office or your local government officials about what action you should be taking to protect life and property.