MENTION JOE CIOFFI AND GET A 5% DISCOUNT
Pacific Hurricane Season 2016
Agatha
Blas
Celia
Darby
Estelle
Frank
Georgette
Howard
Ivette
Javier
Kay
Lester
Madeline
Newton
Orlene
Paine
Roslyn
Seymour
Tina
Virgil
Winifred
Xavier
Yolanda
Zeke
The above is the Pacific name list for 2016. The season begins in the Pacific today which is 16 days before the Atlantic season which beings on June 1st. If you recall last year was a banner year for the Eastern Pacific with the raging el nino. We saw a record number of major hurricanes on the Pacific side since record keeping began and Hurricane Patricia was the strongest observed since records have been kept in the Pacific basin. It was the first time that I could remember where advisories carried sustained winds at 200 mph! Here is the list of names for all areas across the globe. 
2015 PACIFIC HURRICANE SEASON SUMMARY
Summary Table

Name                 Dates         Max Wind (mph)
---------------------------------------------------
MH  Andres*      28 May-4 Jun          145
MH  Blanca*      31 May-9 Jun          145
H   Carlos*         10-17 Jun           90
TS  Ela**            8-10 Jul           40***
MH  Dolores*        11-18 Jul          130
TS  Enrique*        12-18 Jul           50
TS  Felicia*        23-24 Jul           40
TD  Eight-E*        27-29 Jul           35
H   Guillermo*   29 Jul-7 Aug          110
MH  Hilda*           6-13 Aug          140***
TD  Eleven-E        16-18 Aug           35
MH  Ignacio      25 Aug-5 Sep          145***
MH  Jimena      26 Aug- 9 Sep          150
TS  Kevin*       31 Aug-5 Sep           60
MH  Linda*           5-10 Sep          125
TD  Sixteen-E       20-21 Sep           35
H   Marty           26- 1 Oct           80
TS  Nora             9-15 Oct           70
MH  Olaf            15-27 Oct          150***
MH  Patricia        20-24 Oct          200
TS  Rick            18-22 Nov           40
MH  Sandra          23-28 Nov          145
Pacific Hurricane Season 2016 Outlook
Now that the El Nino has continued to weaken, it would seem the obvious forecast is that this season will be less active than last season. The forecast of the developing La Nina would create conditions for a more active season on the Atlantic side. As you recall last season the el nino limited development though Hurricane Joaquin did reach category 5 status briefly.
Pacific Hurricane Season 2016 Satellite Loops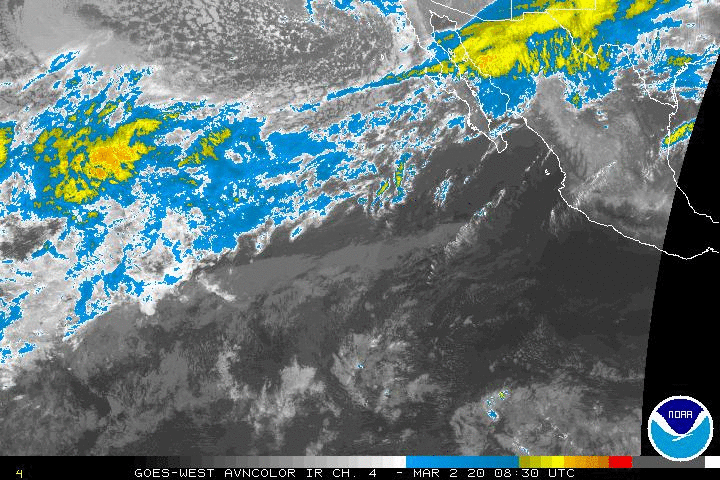 This morning's satellite loop shows disturbed weather in the tropical Pacific however there is shearing going on with strong westerlies aloft so conditions for the moment are somewhat unfavorable for any development in the short term.
This wide view carries it all the way west to include the East Central Pacific which usually doesn't become active until later in the summer. For the time being convection in the tropical Pacific is fairly far to the south at this time.
Pacific Ocean Water Temperatures
May 2015 Departure From Normal
Above is the water temperature profile across the Pacific a year ago as the El Nino was beginning to develop. Notice there is the beginning of much above normal temperatures off South America and across the Equator. Now fast foward a year ahead to today and we have a completely different look in the Pacific. Near the equator we have a developing narrow belt of below normal sea surface temperatures. Considering that just several months ago this area was still running 2 to 3 degrees Celsius above normal, it has been quite a reversal. Also the ocean water temperatures along the west coast of Mexico has cooled considerably as well. These are of course not the only factors to consider in hurricane activity, but it is an important signal on the Pacific side that things are certainly a lot different this year. We also have an expanding area of cooler than normal ocean water temperatures in the North Pacific which is another big change. This could all be part of the process of La Nina developing in the longer term.
Pacific Hurricane Season 2016
Ocean Water Temperatures May 2016 Departure From Normal
On the Atlantic side we have seen colder water moving southward along the west coast of Europe to off the coast of North Africa. The tropical Atlantic ocean remains warmer than normal and so is the development zone off the African coast. Will that cold water off Europe continue to sink southward? Big question here as that could have impact on the Cape Verde Season which usually is in August until mid September. We will have more on the Atlantic Hurricane season over the next few weeks including opinions from other weather sources (Guest forecasts!) so stay tuned.
FiOS1 News Weather Forecast For Long Island
FiOS1 News Weather Forecast For New Jersey
FiOS1 News Weather Forecast For Hudson Valley
NATIONAL WEATHER SERVICE SNOW FORECASTS
LATEST JOESTRADAMUS ON THE LONG RANGE

NOMINATED FOR AN APPY AWARD FOR BEST WEATHER APP!!
Weather App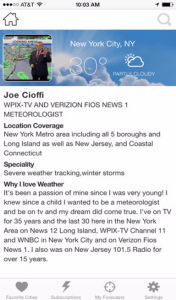 Don't be without Meteorologist Joe Cioffi's weather app. It is really a meteorologist app because you get my forecasts and my analysis and not some automated computer generated forecast based on the GFS model. This is why your app forecast changes every 6 hours. It is model driven with no human input at all. It gives you an icon, a temperature and no insight whatsoever.
It is a complete weather app to suit your forecast needs. All the weather information you need is right on your phone. Android or I-phone, use it to keep track of all the latest weather information and forecasts. This weather app is also free of advertising so you don't have to worry about security issues with your device. An accurate forecast and no worries that your device is being compromised.
Use it in conjunction with my website and my facebook and twitter and you have complete weather coverage of all the latest weather and the long range outlook. The website has been redone and upgraded. Its easy to use and everything is archived so you can see how well Joe does or doesn't do when it comes to forecasts and outlooks.
Just click on the google play button or the apple store button on the sidebar for my app which is on My Weather Concierge. Download the app for free. Subscribe to my forecasts on an ad free environment for just 99 cents a month.
Get my forecasts in the palm of your hand for less than the cost of a cup of Joe!