OPHELIA BRITAIN IRELAND SCOTLAND NORWAY PREP FOR WIND & RAIN
SUPPORT BREAST CANCER AWARENESS
OPHELIA BRITAIN IRELAND SCOTLAND NORWAY
PREP FOR WIND & RAIN
Satellite loops this morning show Hurricane Ophelia with 100 mph winds has begun to move east northeastward and that should continue today and tonight. Weather models have been very consistent for days showing Ophelia turning northeastward and then northward and accelerating off the west coast of Europe. The current weather model tracks are all relatively consistent with Ophelia arriving Sunday night and Monday with the potential for strong winds and heavy rain. By Sunday Ophelia will be transitioning to a strong extratropical cyclone.
Other than a few odd tracks most model bring Ophelia over Western Ireland and then across Northern England & Scotland and then eventually to Norway. While remnants of tropical systems do impact this part of the world from time to time, the track from the south southwest is rather unusual. By the time Ophelia reaches the British Isles the area of gale force winds will have expanded considerably from what it is right now.
The GFS model which is on the western side of the model tracks shows 50 kt winds impacting Northwestern Ireland with a large area of gales to the west coast of England & Scotland late Sunday night into late Monday. The heaviest rains will likely be along and west of the track of the cyclone so at least from this standpoint much of the Islands may not experience that much rain if the track is just offshore. If it tracks further east then some heavy rains of 2-3 inches would become more likely. The European has a track further east and would support a stormier outcome. From Britain the next stop for the post tropical cyclone could be coastal Norway Monday night.
MANY THANKS TO TROPICAL TIDBITS FOR THE WONDERFUL USE OF THE MAPS
                                                          GET JOE A CIGAR IF YOU LIKE
STUDENT & FACULTY DISCOUNTS FOR ELECTRONICS
Weather App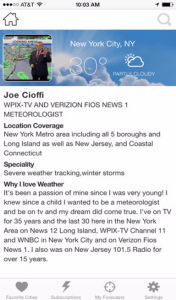 Don't be without Meteorologist Joe Cioffi's weather app. It is really a meteorologist app because you get my forecasts and my analysis and not some automated computer generated forecast based on the GFS model. This is why your app forecast changes every 6 hours. It is model driven with no human input at all. It gives you an icon, a temperature and no insight whatsoever.
It is a complete weather app to suit your forecast needs. All the weather information you need is right on your phone. Android or I-phone, use it to keep track of all the latest weather information and forecasts. This weather app is also free of advertising so you don't have to worry about security issues with your device. An accurate forecast and no worries that your device is being compromised.
Use it in conjunction with my website and my facebook and twitter and you have complete weather coverage of all the latest weather and the long range outlook. The website has been redone and upgraded. Its easy to use and everything is archived so you can see how well Joe does or doesn't do when it comes to forecasts and outlooks.
Just click on the google play button or the apple store button on the sidebar for my app which is on My Weather Concierge. Download the app for free. Subscribe to my forecasts on an ad free environment for just 99 cents a month.
Get my forecasts in the palm of your hand for less than the cost of a cup of Joe!