One More Warm Sticky Day Air Mass Change This Weekend Rain Chances Next Week
WEATHER IN 5 FRIDAY OCTOBER 23, 2020
JOE & JOE WEATHER SHOW THURSDAY OCTOBER 22, 2020
This has been one very consistent week with every day about the same. Nighttime and morning low clouds and fog followed by breaks of midday and afternoon sunshine. Some places break out wide open in sun and temperatures jump up through the 70s. Others fight clouds and an onshore flow all day long and temperatures in these areas struggle in the 60s all day. It won't be any different today. There is no rain to worry about as the radars are nice and clear.
SATELLITE

REGIONAL RADAR

The development of Hurricane Epsilon in the Atlantic this week truly altered the upper air pattern across the Atlantic and North America. Instead of seeing weather fronts with cold air masses coming into the Eastern US along with chances for rain, Epsilon forced an upper high to build to its northwest which basically locked a warm weather pattern into the Eastern US. Colder air is in the faster flow from the Western Great Lakes westward.
Now that Epsilon is moving northward, the upper high along the East Coast breaks down over the next couple of days. This finally will allow the jet stream to the northwest to shift eastward just enough to bring a cold front through. At least we get a fresh air mass and get rid of this stagnant air.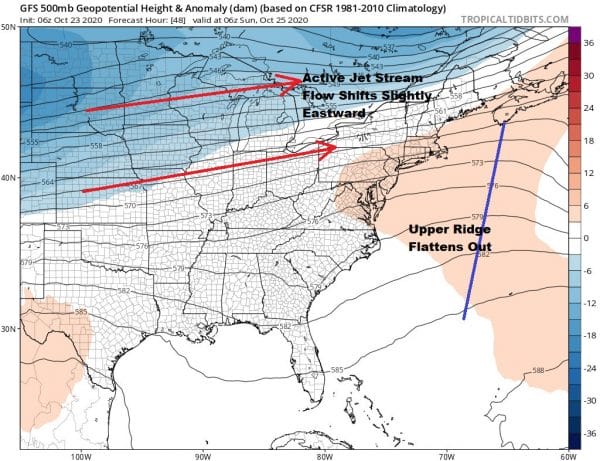 Saturday a cold front slowly moves through and that likely keeps us in clouds for most of the day. Perhaps some breaks of sun develops later in the afternoon but I don't think it makes much of a difference in the outcome. Temperatures will be in the upper 60s and lower 70s but the winds will turn northwest and dew points will start to go down.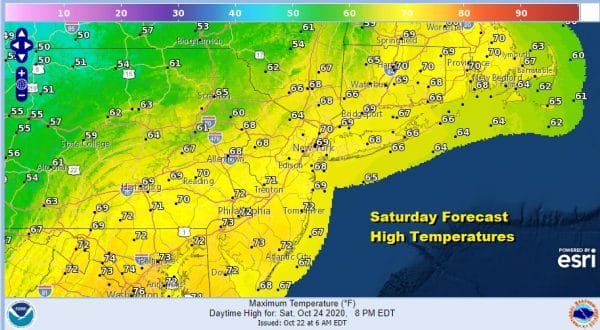 Saturday night skies should at least partially clear and it will turn cooler with lows in the upper 30s to mid 40s. Sunday should be no worse than partly sunny though there will likely be more clouds than sun from Southeastern Pennsylvania and Southern New Jersey south and more sun than clouds from Northern New Jersey to NYC and Long Island northward into NY state and Connecticut. Sunday's temperatures however will not get out of the 50s!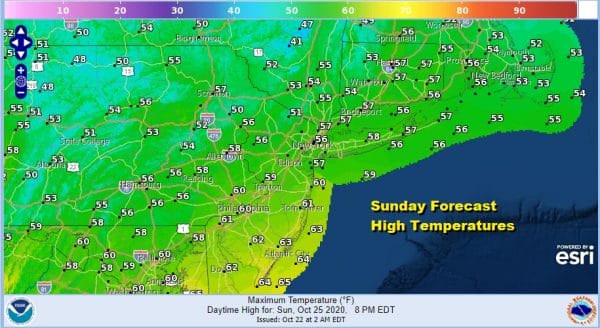 This past week the frontal boundary between warm and cool lied across Western NY to the Ohio Valley. The shift east in the jet stream will put the frontal boundary closer to the coast and that means opportunities for rain next week. The GFS model is the furthest south with this frontal boundary but if the pesky ridge along the east coast is a little stronger, much of the rain you see could wind up being further north.
Nonetheless the chances for rain are higher next week than they were this week especially late in the week when low pressure comes out of the Southern Plains and heads to the northeast. That could be a significant widespread rain event a week from now.
MANY THANKS TO TROPICAL TIDBITS FOR THE USE OF MAPS
Please note that with regards to any severe weather,  tropical storms, or hurricanes, should a storm be threatening, please consult your local National Weather Service office or your local government officials about what action you should be taking to protect life and property.