One Last Day of Low Humidity Before It Becomes
Very Warm Humid Over The Weekend

Weather in 5/Joe & Joe Weather Show Latest Podcast
One Last Day of Low Humidity Before It Becomes Very Warm Humid Over The Weekend
The three days last week and two days this certainly certainly go down as the best 5 days of the month. Skies are clear on the satellite from Maine to the Carolinas but dew points are beginning to climb higher west of the Appalachians and that very warm and humid air is destined to get here by Saturday. In the meantime enjoy the afternoon of sunshine with highs mostly in the upper 70s and lower 80s. There are no issues on the radar to concern ourselves with.
SATELLITE

Clouds are offshore along the old cold front that came through on Tuesday. A little low is going to spin up in that zone off the Virginia coast and meander its way northward tonight into Friday morning. That could throw some clouds back to the coast, and there even might be a downpour or an isolated thunderstorms mainly from Southern New England and Long Island Eastward. They should be scattered on the radar and by morning whatever is on the radar will disappear quickly. The low will dissipate and high pressure east of Cape Cod builds back westward.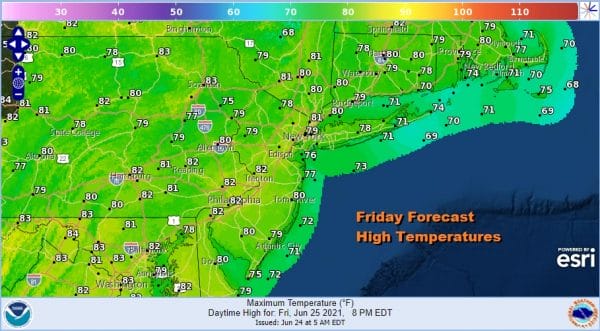 Inland dew points will rise to through the 50s but along the coast we will dew points reach into the 60s thanks to that ocean low and the onshore flow from the east. Skies should be no worse than partly sunny though with temperatures rising to the upper 70s and lower 80s.
Saturday and Sunday we will see very warm and humid conditions. Skies will be no worse than partly sunny both days. We will throw in the chance that there could be a pop up shower or thunderstorm Saturday and Sunday afternoon and evening. They should be scattered in nature. Saturday's highs will be in the mid to upper 80s. Sunday's highs will be in a range of 85 to 90. Temperatures should be lower along south facing shorelines.
An upper high forming south of Nova Scotia builds back westward into the Middle Atlantic States and it is a strong high. It will park itself for a few days and that means very warm to hot and humid conditions will continue for much of next week. A weather front well to the northwest will bring heavy rain and thunderstorms from the Ohio Valley to the Great Lakes but the high will keep that rain from coming here.
So we roll with a wash rinse repeat forecast for Monday through Wednesday. Sunshine very warm to hot and humid conditions are forecast with highs in the upper 80s to lower 90s. The warmest temperatures will be near the center of that ridge (Southeast South Central Maryland south into Virginia 90 to 95 degrees). The ridge should break down late next week bringing a cold front through before the start of the 4th of July holiday weekend.

Please note that with regards to any severe weather,  tropical storms, or hurricanes, should a storm be threatening, please consult your local National Weather Service office or your local government officials about what action you should be taking to protect life and property.