Offshore Storm Impacts New England Track Offshore Then Left To Coast

Weather in 5/Joe & Joe Weather Show Latest Podcast
Offshore Storm Impacts New England Track Offshore Then Left To Coast
We are back to mostly gloom and doom today into Friday morning but the amount of doom and gloom clearly depends on your location. The developing coastal low is taking a track first to the east offshore and then arcing back northwestward toward Southeastern New England. That makes all the difference in the world regarding the amount of rain, wet snow, and the temperatures.
First off with regards to rain, amounts of 1 inch or more will be mainly east and north of NYC. The amount of rain sharply cuts off to the south and southwest with little if any rain accumulation of consequence across Southern New New Jersey, Southeastern and South Central Pennsylvania and points south.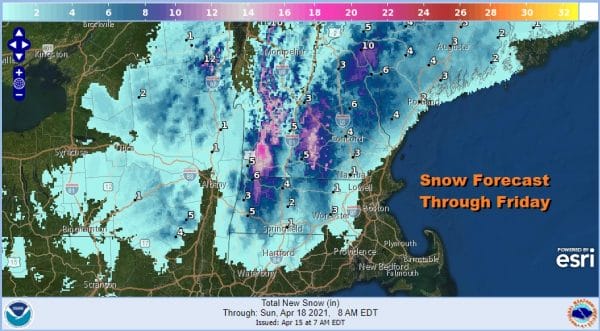 Wet snow from this system has continued to shift eastward and this continues to be an elevation driven event. Highest accumulations will occur above 1500 feet and now include Northern and Northeastern New England and  less if any in areas from the Poconos to the Catskills. Why is this?
The track of the surface low from North Carolina is straight east before it turns north and hooks back northwestward toward the coast, well to the east of NYC. The upper low is tracking across Northern Pennsylvania and over or just north of NYC. This track of the upper low further north means this is an event for New England and not for areas to the south. You would need to see the upper low to track off the Delaware coast or Southern New Jersey for this to be more significant for areas in Southern New England west into Pennsylvania.
SATELLITE

So plan accordingly today depending on your location. If you are east and north of NYC expect rain to overspread the area during the day. If you are south and west of Philadelphia and Route 195 in New Jersey, expect lots of clouds and some scattered showers. In between those two points will be zone of transition.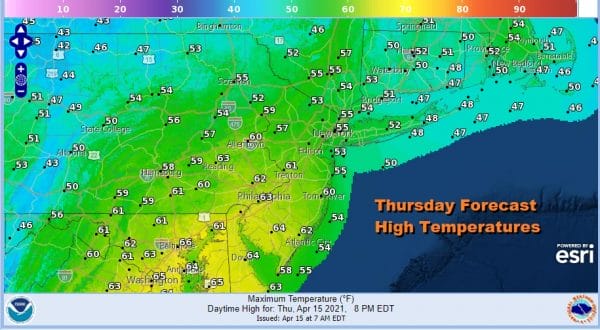 This also makes temperatures a tough call. From NYC north and east temperatures are likely to go nowhere. South and west of there we could see upper 50s and lower 60s in spite of the cloud cover. Most of the rain will be over with tonight. Friday we will spend the day on the back side of this low with leftover clouds and perhaps some passing showers. Temperatures will be in the 40s from NYC north and east and low to mid 50s to the south and west.
The weekend looks better but not perfect since the low to the northeast takes forever to get out of the way. An upper trough approaches from the northwest on Sunday. My thinking is a mix of clouds and sun for Saturday and for Sunday. We could see some scattered showers in the afternoon on Sunday mostly inland and for most this is a non event. Temperatures should be in the 50s to around 60 Saturday and into the 60s on Sunday. Next week we should see temperatures try to climb into midweek before the next cold front approaches on Wednesday. Then it is back to cooler than normal temperatures for the end of next week.
MANY THANKS TO TROPICAL TIDBITS FOR THE USE OF MAPS
Please note that with regards to any severe weather,  tropical storms, or hurricanes, should a storm be threatening, please consult your local National Weather Service office or your local government officials about what action you should be taking to protect life and property.