NY City Weather, NJ Weather, Ct Weather, Pa Weather
Wherever you go Tuesday from Pennsylvania through Southern New England the story for Tuesday is rain. Low pressure is developing along the Virginia coast and will move north and northeast. The satellite loop sows a large area of clouds lifting northeast. The warm sector to the south has Tropical Storm Kate moving northward near the northwest Bahamas. Soon the tropical storm will be moving away from the islands and turning northeastward. The tropical moisture from this system will not be getting involved with the coastal non tropical low that is developing.
 t
Radar has been showing a large area of rain gradually moving northward. The area of rain should hold together for the most part and look for that rain to arrive overnight in Southern areas and from New York City northeastward around daybreak. There are some heavier rain areas being indicated in the yellows on the radar and some of this should survive as well though not everyone will participate in that.
The rainfall will be widespread through the entire area with rainfall forecasts in general between a half an inch and an inch. Some models are being a little more aggressive with the rainfall amounts showing between an inch to an inch and a half but I'm thinking this will be a little overdone. The morning commute will be on the wet side so a little extra time is probably not a bad idea to get to wherever you need to get through on time.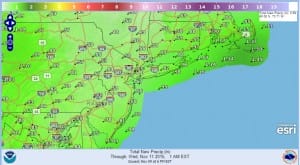 The low offshore should begin to pull away Tuesday night and the rains should end from southwest to northeast as the night progresses. Wednesday morning eastern areas of Long Island and Connecticut might have a few leftover showers but Wednesday should be gradual improvement with some sunshine through leftover clouds and highs will be back into the lower 60s.
Thurday we have another cold front approaching that could mean a few showers later in the day and Thursday night. A large storm in Southern Canada will be bringing down some colder air Friday and Saturday. Upstate NY might see some lake effect snows out of this though it doesn't look to be a huge deal since the storm will be pulling away and the cold air is marginal. The weekend right now is shaping up dry.
JOESTRADAMUS ON THE LONG RANGE
TROPICAL STORM KATE LATEST INFORMATION
CHRISTMAS SHOPPING ON JOE'S WEBPAGE