DOWNLOAD MY NEW FREE JOESTRADAMUS WEATHER APP FOR ALL DEVICES
Not Perfect But Acceptable Weather Weekend Shower Chance Later Today
We started the week in the grips of offshore lows, onshore flows, rain, and having fireplaces going. We finish the week back where we should be. We have seen a couple of nice days back to back which this spring has been hard to pull off. Today won't be too bad overall. We can see clouds on the satellite picture to the northwest back to the Great Lakes. This is the latest cold front that is moving along and will pass through here later this afternoon and evening with a few showers or perhaps a heavier downpour. There won't be much to this front and it will go by and keep on moving.
SATELLITE

REGIONAL RADAR

Checking out the radar we see showers across New England and upstate New York as low pressure moves eastward. Showers and downpours become scattered on the tail end of of this as they move southeast. An area of heavy rain is moving southeast across West Virginia so that isn't headed here. The Upton radar is picking up on showers along and north of I-90 in upstate NY which are sliding to the east southeast.
LOCAL RADAR NEW YORK CITY
LOCAL RADAR PHILADELPHIA

We think the risk for a downpour will be sometime between 3pm and 9pm. Highs this afternoon will be in the 70s to near 80 in some inland areas. The front passes offshore and we head into what should be a decent week. Clouds should clear out later tonight with most lows in the 50s.
We have a snapshot view of the NAM model view Saturday afternoon and it shows us enjoying a nice day of sunshine while across the Plains and Mississippi Valley we are seeing a rather impressive looking outbreak of severe weather. That is the next cold front as low pressure heads to the Great Lakes. We don't see much impact from that system through the daytime Sunday. Temperatures Saturday will be in the upper 60s coast to the 70s inland.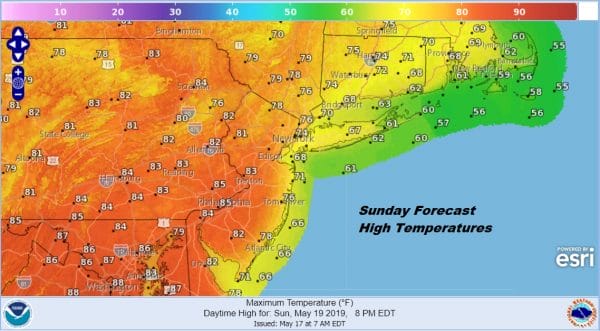 We don't see anything to stop temperatures from rising further on Sunday as long as we see at least some sunshine and I think we will. Along the immediate coast we see 60s to near 70 but highs inland will be into the 80s. No showers are forecast through the daytime Sunday. Sunday night we could see a few showers or a thunderstorm as the next cold front approaches. Winds will turn more westerly which could mean a warm day Monday with highs reaching into the 80s again provided we see some sunshine. The front should come through relatively dry. There isn't much left for it to work on.
Tuesday and Wednesday of next week look nice and dry. The next frontal system arrives with the chance for showers perhaps as early as Wednesday night into Thursday. Attention then shifts to next weekend which is the Memorial Day holiday weekend. Of the three summer holiday weekends, this is usually the one that is the most problematic weather wise since it is the only one that comes in the spring. It would be difficult to imagine we could string together 3 nice days in a row especially in a spring where even getting 24 hours without rain is an accomplishment.
While it may not look exactly this way, the jet stream pattern next weekend still shows and active blocky pattern with higher pressures in the North Atlantic and over the polar regions while the jet stream remains displaced to the south especially off the West and East Coast and across much of Southern Canada. This to me suggests some issues at some point of the holiday weekend are likely there the where when and how remain to be seen. We will be spending our energy next week figuring out that part of the long range puzzle. A summer like weekend certainly seems to be a pipe dream at this point.
MANY THANKS TO

TROPICAL TIDBITS

FOR THE USE OF MAPS
Please note that with regards to any tropical storms or hurricanes, should a storm be threatening, please consult your local National Weather Service office or your local government officials about what action you should be taking to protect life and property.