DOWNLOAD MY NEW FREE JOESTRADAMUS WEATHER APP FOR ANDROID

THE APP IS ABSOLUTELY FREE TO ALL BUT CONSIDERING SUBSCRIBING TO PATREON FOR A WEATHER EXPERIENCE FREE OF ADS, EXCLUSIVE VIDEOS FOR MEMBERS ONLY AND MUCH MORE…STARTS AT $2 A MONTH..MESSAGE ME AT ANY TIME
Northeast Winter Storm Exits Bitter Cold Air Arrives Tonight
The Northeast winter storm continues to move slowly northeastward with the low sitting in Southwest Pennsylvania. Judging from local temperatures this morning cold air is wedged southwestward into Northwest New Jersey and Northeast Pennsylvania where temperatures are locked in the 20s. Area temperatures are about 5 to 10 degrees lower than what was modeled for surface temperatures and that has led to a prolonged period of freezing rain inland.
The warm sector to the south has pushed temperatures into the 50s and 60s in Eastern Virginia and North Carolina. We have one more surge of downpours and possibly some thunderstorms this morning along the coast. The low itself will likely take a track close to the black line drawn above. The satellite loop shows clouds racing northeastward and we should see the clouds push offshore this afternoon.
EASTERN SATELLITE

REGIONAL RADAR

Radars are still quite busy this morning with a line of heavy showers and possible thunderstorms developing along the immediate coast just south of Long Island to North Carolina. This will set up the last run of heavy that should finally be gone along the coast by noon. Inland radars show the back edge making progress eastward.
LOCAL RADAR NEW YORK CITY
LOCAL RADAR PHILADELPHIA

Once the low passes the winds will turn to the north and this will bring down brutally cold air that is sitting in Northeastern Canada waiting to drain southward. Some areas will see temps drop to below 32 in a hurry this afternoon so any standing moisture will freeze. The drop continues tonight as skies clear. Gusty northerly winds will take wind chills down to below zero by morning and temperatures won't be much higher.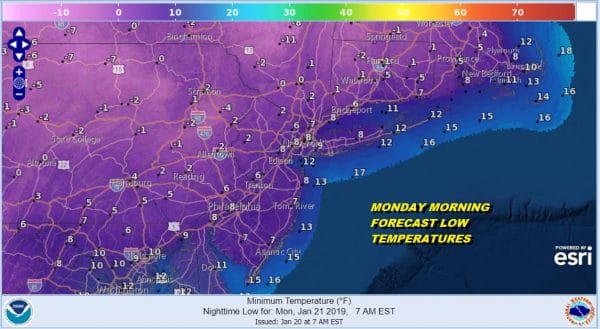 Monday morning will be the coldest morning of the winter so far with lows in the single digits with cold spots north and northwest of the coast near zero. We will see sunshine on Monday with highs just back into the lower teens. Some areas might not break above 10. Tuesday morning will be a repeat performs with some below zero readings popping up.
We will start to see temperatures moderate on Tuesday with some sunshine and highs back into the 20s.  Temperatures will keep rising into Wednesday and it is hard to believe that the next front moves through here with rain showers and temperatures in the 40s but that is the plan.. Be advised however that in some areas if precipitation comes in fast enough Wednesday morning there could be freezing rain at the start.
The complication late this week will be the front stalling out and waiting for a second wave to develop on it and move northeastward while cold air will be poised nearby trying to return as the wave moves through. It is all about timing Usually the wave goes by first before the cold air comes in but sometimes we do see instances of cold air getting back in before the wave goes by. This will be the challenge for later in the week.
MANY THANKS TO

TROPICAL TIDBITS

FOR THE USE OF MAPS
Please note that with regards to any tropical storms or hurricanes, should a storm be threatening, please consult your local National Weather Service office or your local government officials about what action you should be taking to protect life and property.