Northeast Weather Sitting In Between 3 Storms
Northeast Weather Sitting In Between 3 Storms
We are leading a charmed life here in the Northeast as somehow we managed to get into a sweet spot weather wise. We are lying in between 3 storms. Irma or what is left of Irma is spinning back northwestward into the Middle Mississippi Valley and basically raining itself out. To the east we have a strong non tropical storm dropping southeastward from Nova Scotia. To the south we have hurricane Jose which is basically trapped between the 2 with no place to go at the moment. Outside of some high level clouds today we should see a fair amount of sunshine with rather warm temperatures today. Highs will reach into the lower 80s.
TUESDAY'S HIGH TEMPERATURE FORECAST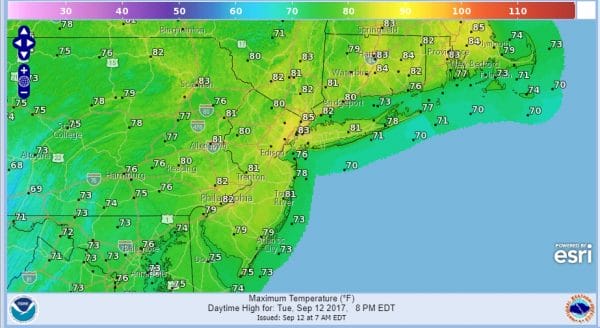 Much of the rain that is around is with the remnants of Irma which are basically going to rain themselves out. No real impact from Irma is forecast for our weather. Eventually that moisture comes east for Thursday into Friday but if I didn't tell you it was from a tropical storm you would not notice the difference and should not amount to very much.
SATELLITE LOOP

REGIONAL RADAR

You can actually see the rains from Irma have made it up into parts of Western North Carolina and Western Virginia but the rain is moving northwestward and won't come anywhere close.
Wednesday into Friday some moisture does come into play with a weak front and some of this moisture from Irma streaming out to the northeast. Again no big deal here. It will be warm and more humid Wednesday with maybe a shower or a thunderstorm running around. The same will hold for Thursday and Friday. Much of the time it should be ok with highs each day in the upper 70s to lower 80s.
Hurricane Jose remains a non issue for the moment as it meanders between the Bahamas and Bermuda. Late week it may move to the west or northwest for a time but whether it makes a move toward the mainland of the US or heads out to sea toward Nova Scotia or New Foundland remains to be see.
For the latest on Jose and its future check my latest JOESTRADAMUS post.

GET JOE A CIGAR IF YOU LIKE 
FiOS1 News Weather Forecast For Long Island
FiOS1 News Weather Forecast For New Jersey
FiOS1 News Weather Forecast For Hudson Valley
LATEST JOESTRADAMUS ON THE LONG RANGE