Northeast Weather Remains Relatively Tranquil Last Week of Summer Ahead
We are enjoying a decent weather day on this Sunday as most of the Northeast and Mid Atlantic states remain in a very tranquil weather pattern. We do have a cold front approaching today from the west and that is producing clouds on the Satellite from Southeastern Canada southward to Western NY and Western Pennsylvania. The front however is weak and the impact near the coast will be minimal with clouds coming into the mix later today but showers will stay west and north and likely fall apart before they get here.
SATELLITE

REGIONAL RADAR

Radar shows the Western NY and Western Pennsylvania showers moving northeastward and not making much eastward progress. Local radars are quiet and should remain so for most if not all of the day. Temperatures this afternoon will reach the upper 70s and lower 80s. You can see on the GFS loop below how the showers completely fall apart as the front moves east.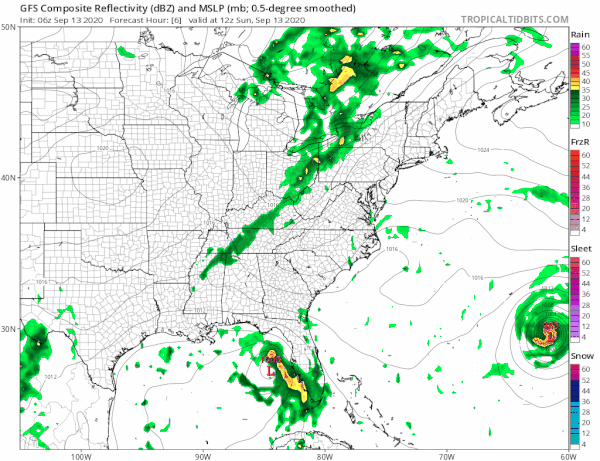 Once the front passes another dry and cool air mass comes for Monday and Tuesday. Skies will clear out tonight with most lows in the upper 50s to mid 60s. The cool high builds in quickly on Monday with sunshine, most highs will be in the 70s. This will lead to a very cool night of lows in the 40s to mid 50s for Tuesday morning.
Much of this week should be fine weather wise. Tuesday we will be just in the upper 60s and lower 70s making for a very cool late summer/almost early fall day with sunshine as high pressure exits to the east. We should note that the high will interact with Paulette and produce rough surf starting later Monday and lasting into Wednesday but there will be no other impacts from Paulette. Sally in the Gulf of Mexico could turn east or northeast after landfall but whether it is able to push clouds and showers northward late this week is questionable as the northwest flow from Canada tries to dominate.
Wednesday should be sunny with highs in the 70s Thursday look for some sun and clouds and there is the risk for a shower or two late in the day as the front passes. Assuming the moisture from Sally remains south, Friday and Saturday will be cooler with some sunshine and highs just into the 70s in most places.
MANY THANKS TO TROPICAL TIDBITS FOR THE USE OF MAPS
Please note that with regards to any severe weather,  tropical storms, or hurricanes, should a storm be threatening, please consult your local National Weather Service office or your local government officials about what action you should be taking to protect life and property.