Northeast Ski Resorts Not Much To Ski On Anytime Soon
A cold front has passed through and now continues to sink slowly southward. We have cooled off from earlier highs into the 60s but this is about as cold as a air mass gets these days. In fact there isn't much cold air anywhere to speak of other than the do it yourself cold air we will get from time to time over the next 2 weeks or so. Ski resorts in New York and New England had a nice base of snow put down in November topped off by the pre Thanksgiving day storm but there has been next to nothing this fall and over the next few weeks snow even in northern New England will be a rare event or at best a light one. The total snowfall map over the next 10 days shows less than 3 inches even in the highest areas in upstate New York. Skiers are better off going west where there is plenty of snow to play with.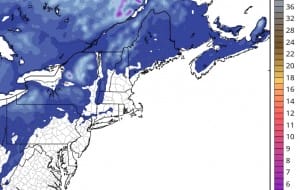 You can see on the satellite loop that clouds are slowly sinking southward which means that northern areas of the Hudson Valley and Northern Connecticut will dry out and clear out first in the early morning hours and Southern New Jersey and Southeast Pennsylvania will be the last to clear'
Radars to the south remain busy but all the rain is drying out as it heads east. Some of that rain will hold up and cross Southeast Pennsylvania and Southern New Jersey late tonight and Sunday morning before moving out and then skies will start to clear out from north to south Sunday afternoon. Rainfall amounts will be on the light side.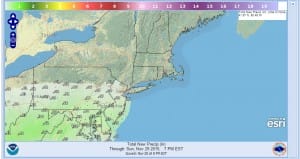 Temperatures Sunday will be in the upper 40s to low 50s for highs and then drop into the 30s with 20s north of New York City and the Hudson Valley and Northern New Jersey by Monday morning. Monday will be nice with sunshine but highs will only be in the 40s. Rain will be developing across the area during Tuesday and lasting in part of Wednesday.
Long range, Thursday and into next weekend will be dry with temperatures close to normal. Except for the rain Tuesday into Wednesday which should be decent but no big deal, there are no big storms are in sight over the next 10 days.
LONG ISLAND WEATHER FORECAST ON WEATHERLONGISLAND.COM
VIDEO ANALYSIS ON WHY THE COLD AIR IS TRAPPED. VIEW OF NORTH AMERICA TEMPERATURES
WARMEST NOVEMBER ON RECORD AND WHAT IT MEANS (OR DOESN'T MEAN)
DO WARM NOVEMBERS MEAN SNOWLESS WINTERS?
JOESTRADAMUS WINTER FORECAST 2015-2016
DO YOUR HOLIDAY SHOPPING ON MY WEBSITE AND AVOID MALLS AND TRAFFIC