North Atlantic Oscillation Driving Models Crazy
North Atlantic Oscillation Driving Models Crazy
There is no doubt about the fact that the models are being driven crazy by the North Atlantic Oscillation or blocking. Every run deals with the magnitude and position of the rising pressures and a possible blocking high in the North Atlantic differently This creates ridiculous volatility in the weather models beyond day 7 in the long range. This of course creates chaos on the pattern and how it evolves. The last 24 hours continues to show this back and forth trend and has made coming to grips with the long term outlook extremely difficult.
NORTH ATLANTIC OSCILLATION INDEX
The index that measures the magnitude of the North Atlantic Oscillation is off the wall negative. When the index is negative it means that pressure across the North Atlantic are higher than normal and in this case much higher than normal. Usually the N.A.O. means colder than average temperatures in the Eastern US but not always. At the moment the "block" is "east based" which favors cold air into Western Europe. There are also other factors which are favoring average temperatures in the East with quick shots of chilly air and short warm ups of a day or so with very little precipitation. This will continue through this coming weekend. We have a cold front coming with some showers Thursday night into Friday morning which won't amount to much. We also have a weak system that will develop just offshore on Sunday which could bring clouds and maybe a little rain for coastal areas. Other than that we wait until the middle of next week when the N.A.O. index begins to rise toward neutral. This could be an indication of an important change and when combined with other changes across North America, could be indicating a storm signal of some kind in the Eastern US. All of this at this point is speculative. It doesn't guarantee anything of consequence but it is something to watch.
PACIFIC NORTH AMERICA PATTERN INDEX
Another index that is important is the Pacific North America pattern index which is going strongly positive next week. This is indicating a ridge in the west that would be an important ingredient to any potential activity in the Eastern US.  A strong ridge is supportive to something developing in the Eastern US of importance.
All of this makes the puzzle that lies ahead more intriguing. Weather models today continue to struggle with all this as models continue to react to the impact of the North Atlantic Oscillation. Once again today models trend colder after day 8 which would start a week from tomorrow. Once again today the models are completely different in how they handle the blocking.
GFS FORECAST FRIDAY DECEMBER 8TH
The GFS today develops an incredibly strong upper high in Northeastern Canada which displaces the polar vortex to the south over the Great Lakes. The result is cold air pouring into the east in a broad fashion. This basically would be cold and dry.
EUROPEAN MODEL FRIDAY DECEMBER 8
It seems that the trend to colder than average temperatures beginning around the middle of next week is a given on both models. Whether it comes with any precipitation is another matter. You can expect the models to continue to show long range volatility and lots of forecast uncertainty until we can settle just exactly what is the blocking high going to do.
MANY THANKS TO TROPICAL TIDBITS FOR THE WONDERFUL USE OF THE MAPS
GET JOE A CIGAR IF YOU LIKE!
FiOS1 News Weather Forecast For Long Island
FiOS1 News Weather Forecast For New Jersey
FiOS1 News Weather Forecast For Hudson Valley
NATIONAL WEATHER SERVICE SNOW FORECASTS
LATEST JOESTRADAMUS ON THE LONG RANGE
Weather App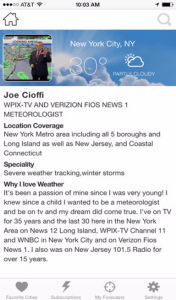 Don't be without Meteorologist Joe Cioffi's weather app. It is really a meteorologist app because you get my forecasts and my analysis and not some automated computer generated forecast based on the GFS model. This is why your app forecast changes every 6 hours. It is model driven with no human input at all. It gives you an icon, a temperature and no insight whatsoever.
It is a complete weather app to suit your forecast needs. All the weather information you need is right on your phone. Android or I-phone, use it to keep track of all the latest weather information and forecasts. This weather app is also free of advertising so you don't have to worry about security issues with your device. An accurate forecast and no worries that your device is being compromised.
Use it in conjunction with my website and my facebook and twitter and you have complete weather coverage of all the latest weather and the long range outlook. The website has been redone and upgraded. Its easy to use and everything is archived so you can see how well Joe does or doesn't do when it comes to forecasts and outlooks.
Just click on the google play button or the apple store button on the sidebar for my app which is on My Weather Concierge. Download the app for free. Subscribe to my forecasts on an ad free environment for just 99 cents a month.
Get my forecasts in the palm of your hand for less than the cost of a cup of Joe!