Noreaster Tonight into Saturday Morning
Rain Wind Coastal Flooding Snow Well North

A powerful storm is moving out of the Lower Mississippi Valley and heading for Ohio/Western Pennsylvania. A secondary low will develop along the New Jersey/Long Island coast tonight and quickly become the main storm and then begin to move to the east northeast. This is setting up for mostly a rain event for Eastern Pennsylvania to Southern New England with minimal snow expected at the start. Anything that accumulates north and west of the coast will likely get washed away by rain. Clouds will be increasing as we go through the day and we will see precipitation developing this afternoon from south to north. Rain over Southern Pennsylvania and New Jersey south of Route 78 will move northward and we will likely see snow develop north of Route 80 in New Jersey and Pennsylvania across into Southeastern NY/NYC Long Island and Connecticut.
SATELLITE

WEATHER RADAR

The heaviest snow ill be basically along and north of the I-90 Corridor from NY state eastward across Massachusetts. Most areas north of there will see 6 inches or more and then amounts drop sharply down to Route 84 where an inch or 2 is expected before it gets washed away by rain.
As far as rain is concerned, we will see some heavy rain fall with rainfall amounts of 1 to as much as 2 inches possible. There might even be a thunderstorm in the mix as the secondary develops very quickly destabilizing the atmosphere. Rain will end across Eastern Pennsylvania to Southern New England Saturday morning but will continue into the afternoon in Southern and Southeastern New England. Snow will fall Saturday from Northern Connecticut to Massachusetts.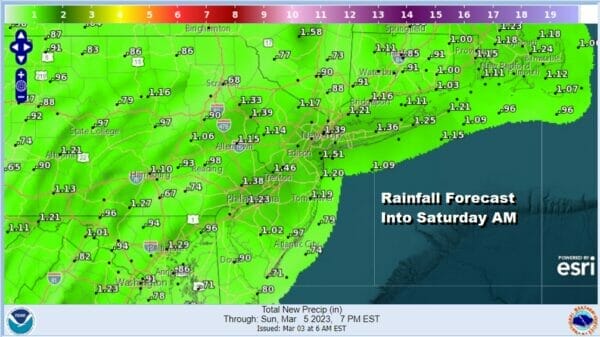 As far as temperatures go, we will see readings in the 30s to low 40s inland and low to mid 40s near the coast and higher temperatures are likely in Southern Pennsylvania and Southern New Jersey. Highs may not be reached until tonight when the storm is underway. Winds along the coast tonight from NYC east will gust 30 to 40 mph. Coastal Flood Watches are posted for areas around Long Island and NY Harbor for the possibility of coastal flooding at high tide.
After a rainy night into Saturday morning the storm will move away to the east and weather conditions will being to improve from west to east. We will have leftover clouds in the afternoon with Saturday highs in the mid 40s and lower 50s. Sunday obviously will be the better of the two weekend days with some sunshine and highs again in the mid 40s to lower 50s.
We are heading into a weather pattern next week that we have not seen at all this winter. Blocking is developing in the North Atlantic and it will strengthen next week and beyond. This will get us to a stretch of colder than average temperatures that could last for while. This is not going to be like the two arctic blasts we saw this winter where the cold air comes in and goes out after 36 hours.
Monday should be a nice day of sunshine with highs in the 50s area wide. Tuesday low pressure will move from Western NY to off the coast of Southern New England with a trailing cold front. North and east of the Low in Central and possible Southern New England there could be a little bit of rain to snow out of this while elsehwere there will be a few showers. Then a cold large strong high pressure area in Canada will spread out over the Eastern US with colder temperatures for Wednesday with the coldest air coming Thursday and Friday. Other than Tuesday, next week will be dry.
Please note that with regards to any severe weather,  tropical storms, or hurricanes, should a storm be threatening, please consult your local National Weather Service office or your local government officials about what action you should be taking to protect life and property.