NOREASTER TIDAL SURGE FORECAST
NOREASTER TIDAL SURGE FORECAST
Latest weather models remain on course for a noreaster to impact the entire region from Delaware to Southern New England beginning Sunday night and lasting through much of Tuesday. The worst conditions will be during Monday and Monday evening when winds will be every bit of 30 to 40 mph with gusts over 60 mph along coastal areas and offshore. Subtle shifts in the forecast track and scope of the storm have caused the tidal surge forecast to adjust slighty.
NOREASTER TIDAL SURGE FORECAST MONDAY JANUARY 23
This is the latest tidal surge forecast for Monday evening which shows a large area from Southern New Jersey to Southern New England in the zone of tides running 2 to 3 feet above normal. However the surge numbers for the North Central New Jersey coast to the South shore of Nassau County on long Island and Southwestern Suffolk county are in the 3 to 4 foot zone and there is a small area in New York Harbor of 4 to 5 feet. This is probably due to models adjusting the coastal track of the storm slightly to the south and east as well as a stronger easterly fetch of gales during the day Monday.
NOREASTER NAM MODEL RAINFALL FORECAST
Rainfall amounts on weather models still show rainfall amounts of 1.5 to 3 inches on average with some 4 inch plus amounts possible The NAM model is the most bullish on this view and I would caution that in situations like this, models do tend to be a bit conservative.
NOREASTER NAM MODEL WIND FORECAST
With regards to wind, the map above shows the extent of 35-50 knot winds during Monday afternoon and they cover a large area from Southern New Jersey to Southern New England. The strongest winds for our area will be from Monday morning through Monday evening.
With specifics regarding New York City check out ANGRY BEN'S WEATHER PAGE for all the latest
With specifics regarding Long Island check out WEATHERLONGISLAND.COM 
MANY THANKS TO TROPICAL TIDBITS FOR THE WONDERFUL USE OF THE MAPS
SNOW REMOVAL COMPANIES FOR YOUR WINTER NEEDS
             LONG ISLAND                                ROCKLAND COUNTY                   Connecticut
     ROCKLAND COUNTY                         TRI STATE SNOW REMOVAL                           JOHNSTOWN PA
FiOS1 News Weather Forecast For Long Island
FiOS1 News Weather Forecast For New Jersey
FiOS1 News Weather Forecast For Hudson Valley
NATIONAL WEATHER SERVICE SNOW FORECASTS
LATEST JOESTRADAMUS ON THE LONG RANGE
Weather App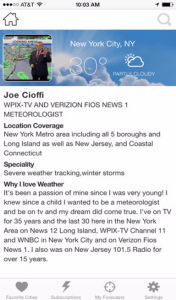 Don't be without Meteorologist Joe Cioffi's weather app. It is really a meteorologist app because you get my forecasts and my analysis and not some automated computer generated forecast based on the GFS model. This is why your app forecast changes every 6 hours. It is model driven with no human input at all. It gives you an icon, a temperature and no insight whatsoever.
It is a complete weather app to suit your forecast needs. All the weather information you need is right on your phone. Android or I-phone, use it to keep track of all the latest weather information and forecasts. This weather app is also free of advertising so you don't have to worry about security issues with your device. An accurate forecast and no worries that your device is being compromised.
Use it in conjunction with my website and my facebook and twitter and you have complete weather coverage of all the latest weather and the long range outlook. The website has been redone and upgraded. Its easy to use and everything is archived so you can see how well Joe does or doesn't do when it comes to forecasts and outlooks.
Just click on the google play button or the apple store button on the sidebar for my app which is on My Weather Concierge. Download the app for free. Subscribe to my forecasts on an ad free environment for just 99 cents a month.
Get my forecasts in the palm of your hand for less than the cost of a cup of Joe!