No Winter Weather Advisories Yet, Snow Coating to 2 Inches
Ice Monday Night Rain Immediate Coast
We have a weather system heading our way for tomorrow which is essentially coming in two pieces. The first piece  actually looks rather impressive at the start of this NAM loop as well as on other models. The first frame is from 4am. However as the area moves east notice the snow area makes it to about NYC and then essentially dries up.
This first lead piece of energy lacks the upper support necessary to produce a substantial snowfall. last frame on this NAM loop is at 67pm Monday. Notice it is like this narrow strip of snow/sleet/rain and looking at the liquid precipitation numbers most places it is a tenth of an inch or less which would translate to about an inch or so of snow. The area in Southern Pennsylvania which sees snow arriving after midnight might see an inch or 2 (isolated 3)  and that would be about  it. The Southeastern half of the state (Harrisburg eastward would probably be closer to the inch than the two. From NYC north and east it is becoming increasingly that little or no snow will come from this first shot.
Monday night into Tuesday morning the second shot comes in with the main low. This will have more precipitation with it but by then certainly the coast would have warmed up above freezing. Inland however north and northwest of Route 287 in the Hudson Valley and New Jersey and north of I-95 in Connecticut it gets dicey as far as temperatures are concerned and icing is certainly going to be a concern.
Most of the area sees .05 to .10 inch of ice accretion which is going to make travel problematic especially on less traveled roads. This is going to be a concern Monday night into Tuesday morning. We will freshen all this up later today once we see where all the Winter Weather Advisories are posted. My sense is that the coastal areas and counties from Long Island to NYC might be left out. We will have to see what Mount Holly decides to do since the Southern New Jersey counties back into Southeastern Pennsylvania will get into the first shot of snow for a coating to and inch or so.
SATELLITE

REGIONAL RADAR

Meanwhile we are getting gusty winds from yesterday's storms system which is now in Canada. This is producing a lot of clouds over much of the Northeast US as the satellite shows. The regional radar is showing lake effect snows moving mostly west to east across upstate NY & Northern Pennsylvania. They should start to wind down late today and tonight.
LOCAL RADAR NEW YORK CITY
LOCAL RADAR PHILADELPHIA

Monday dayside it really depends on where you area. South of 195 and Route 76 in PA we will see snow that will try and spread northward though it dries up once it tries to make to Route 78. Nortthern NJ, NYC, Hudson Valley and Long Island see very little of this. Then it is round two later Monday night which brings sleet and freezing rain Northeast Pennsylvania, Northern NJ (mostly west of 287) the Hudson Valley north of 287 and Connecticut north of I-95. Temperatures tonight will drop into the 20s everywhere as winds diminish and clouds begin to arrive again from the west just as the clouds overhead disappear. Highs Monday will be in the low to mid 30s. Temperatures Monday night will be below freezing just inland and in the mid to upper 30s coastal areas. Precipitation is likely to continues into the early afternoon before ending. Upstate NY & New England could see a widespread 3 to 6 inch snowfall from this system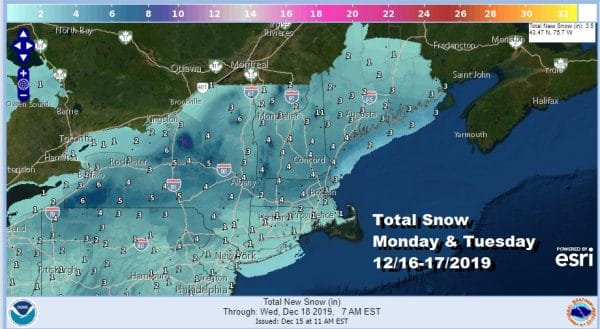 Colder weather returns Wednesday into Thursday. There is a cold front that will move through Wednesday with clouds and perhaps a few snow showers or flurries. Highs will be in the 30s. Thursday will be very cold with most highs in the upper 20s and lower 30s. Uncertainty swirls for next weekend and the days leading into Christmas about whether a storm forms for the East Coast or not. Lots of puzzle pieces need to come together for something to happen and we are not there yet regarding any confidence one way or the other so we will leave it alone for now and visit this again on Monday.
MANY THANKS TO TROPICAL TIDBITS FOR THE USE OF MAPS
Please note that with regards to any severe weather,  tropical storms, or hurricanes, should a storm be threatening, please consult your local National Weather Service office or your local government officials about what action you should be taking to protect life and property.