No Storms Ahead Just Weak Fronts Chilly Temperatures
The winter storm that ravaged the US from west coast to east coast is now moving away from the Gulf of Maine and heading to Canada. We had at least a good deal of sunshine today behind it along with gusty winds and temperatures that struggled to the upper 30s and lower 40s. At least we had some snow melt after our snowfall from yesterday and last night.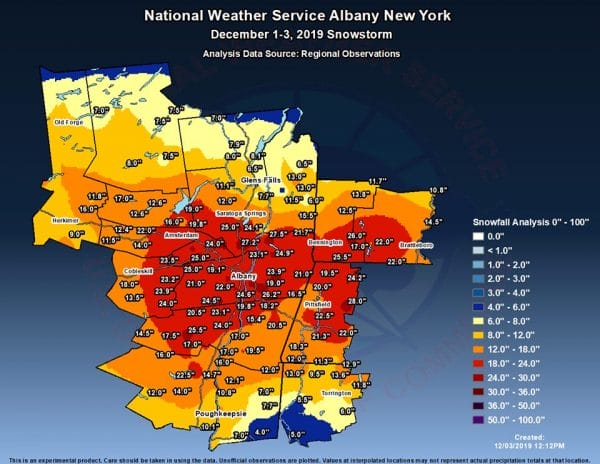 For Upstate NY the Upper Hudson Valley and the Albany area in particular were the big winners with this snowstorm. This was the 8th largest on record and the most for Albany at least since the 1993 superstorm. A huge swath of 20 plus inches extended from Western Massachusetts and Southern Vermont westward with Albany right near the geographic center. Central NY westward saw far less and amounts decreased as you went southward into Eastern Pennsylvania.
Locally the 1 foot line extended southward into Northern Dutchess County. Much of our area experienced ice along with the snow which held amounts down overall. Last minute bands around the upper low brought a few inches down to Long Island. As you went south into New Jersey amounts scaled down considerably with Route 195 in New Jersey being the cut off.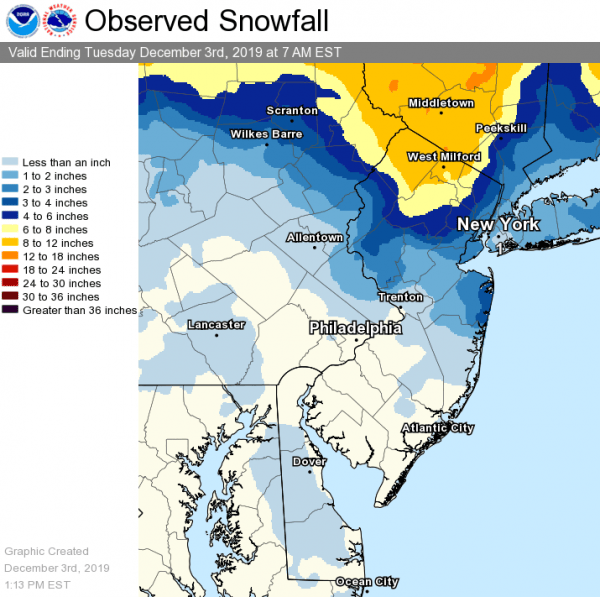 Let's move on to tonight where dry air is coming down on the back side of the storm to the east northeast. The circulation is impressive on the satellite picture and we enjoy the sliver of clearing in between. Breezy conditions continue tonight with the rather tight pressure gradient. Lows will be mostly in the 20s with wind chills down about 10 or so degrees lower.
SATELLITE

REGIONAL RADAR

The next few days we will be seeing 2 cold fronts moving through and both fronts are on the weak side. Wednesday brings the first one with clouds around and the risk perhaps of an afternoon or evening passing rain or snow shower. Highs will reach into the 40s ahead of the front. Snow showers might be a bit more numerous back in Pennsylvania and around the Great Lakes we get a little bit of activity ahead of the front and a little bit of lake effect behind it.
Thursday brings some sunshine back to us with chilly temperatures in the upper 30s to lower 40s. Then we have another cold front moving through on Friday.
The front is weak and again we could see the chance for a passing rain or snow shower when the front goes by. I don't expect any complications from this. Also on Friday in areas to the west and north west we could see a little bit of pre frontal action with some snow showers ahead of it and some lake effect snows behind it. Saturday looks cold with sunshine .Temperatures Saturday will be just in the 30s.
We should see temperatures rebound Sunday as highs climb back into the 40s with sunshine and some arriving high clouds. Next week we will see a low heading to the Great Lakes and warmer southwest flow ahead of it with clouds and the chance for showers Monday and Tuesday. Temperatures should reach into the 50s both days. Windy and much colder weather return for the second half of next week. As for storms in our future and the possibility of additional snow, there are some vague indicators pointing to the middle of the month as a possibility. We will see if those indicators start flashing any signals in the coming days.
MANY THANKS TO TROPICAL TIDBITS FOR THE USE OF MAPS
Please note that with regards to any severe weather,  tropical storms, or hurricanes, should a storm be threatening, please consult your local National Weather Service office or your local government officials about what action you should be taking to protect life and property.